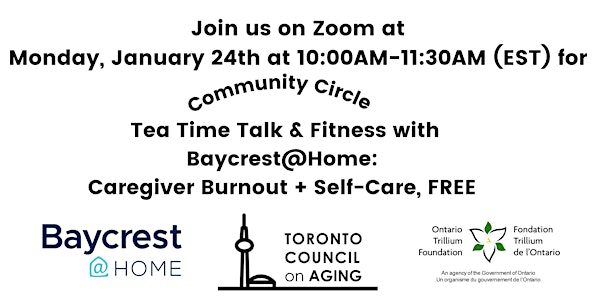 Tea Time Talk + Fitness with Baycrest@Home: Caregiver Burnout and Self-Care
Join us for a virtual informal chat to discuss the challenges and strategies to caregiver burnout + chair exercise with Baycrest@Home (B@H).
About this event
Program information:
Caregivers can be neighbours, friends or family. Toronto Council on Aging Community Circle Program invites you to join a virtual informal chat to discuss the challenges and strategies to caregiver burnout. We will end the session with chair exercise with Baycrest@Home.
Background of facilitator:
Davina Hang is an Outreach Coordinator and Program Facilitator for TCA's Community Circle program through Ontario Trillium Foundation's grant. She has many years of experience providing program services to children, youth, adults with disabilities and mental health and older adults with dementia using a people-centered and strengths-based approach. Outside of TCA, she is currently working on a project that supports aging caregivers from ethno-cultural communities. She is a caregiver to her mother and a respite worker to a person living with dementia.
Information on the Chair Exercise:
Instructor Patti O'Neill
All level of fitness are welcome to lace up their running shoes and join the Baycrest at Home (B@H) low impact seated chair exercise program.
We recommend a sturdy chair without wheels or a wheelchair with the wheels in the locked position. The height of the chair allowing your feet to be flat on the floor.
Check that there is enough space around to allow for arm and leg movements and that you can see and hear your device.
Baycrest@Home:
Baycrest@Home was created to help older adults and families live well, at home. Baycrest@Home offers health, wellness and education programming through a virtual platform, delivered directly to you in the comfort of your home. We offer a daily schedule of live, interactive experiences from exercise, music, art, culture and storytelling that stimulate the mind, body and spirit. Our members can also connect with clinical experts to answer a range of medical questions, address safety issues in the home, or get help navigating the health system. Join us on Monday, January 24th, 2022 at 10:00am - 11:30am hear more about the Baycrest@Home program and participate in a live exercise class designed for older adults.
Website: https://programs.baycrestathome.ca/
Phone: 647 576 HOME (4663)
Email:info@baycrestathome.ca
Community Circle Program:
TCA's Community Circle's program seeks to engage Toronto's diverse older adult communities and reduce social isolation during COVID-19. We intend to collaborate with local communities and host virtual webinars, in areas such as arts and culture, recreation, health and fitness and social services. We hope to create a virtual experience which provides a sense of belongingness that is safe, healthy and fun. The program is funded by way of a grant from the Resilient Communities Fund through Ontario Trillium Foundation.
Disclaimer: This session is an educational resource, and not professional advice. If you have health concerns, please seek professional help.