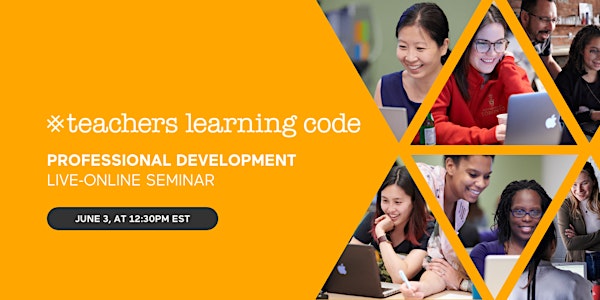 #TeachersLearningCode: Professional Development Seminar
Learn how to teach code during this professional development day for educators!
By Canada Learning Code | Canada en programmation
Date and time
Saturday, June 3 · 9:30am - 12:30pm PDT
Refund Policy
Contact the organizer to request a refund.
About this event
Hear from a certified teacher who will speak to how they integrate and teach coding in their classroom and then join our workshop where you'll gain practical experience coding, and see how easy it is to teach.
Speaker
Monika Vaillancourt, BSc., MSc., BEd
Hear how a tech newbie taught an open-level robotics course, and absolutely loved it!
Monika has been enjoying the highs and lows of public education as a high school teacher in Ontario for the past 17 years. She knows what it means to be busy, to feel the pressure of getting through a school curriculum and to try to balance work-life with home-life. As a female life-science major, Monika never saw herself as someone who would be comfortable with coding or robotics, let alone teach it. Listen to how Monika went from being a tech newbie to running a robotics classroom and regularly incorporating technology and coding into her math and science classes.
Workshop
Scratch for Educators: Science x Math Edition
Learn about the future of transportation and build a game in Scratch that simulates how self-driving cars work!
In this workshop, we'll use Scratch to build and test our own self-driving car prototypes while applying key coding concepts like conditional statements, loops, and events. We'll start exploring cross-curricular connections and assessment strategies, in addition to sharing some awesome (free!) resources to help you get started with using Scratch in the classroom once you leave us.
This workshop is most appropriate for educators teaching grades 4-9, but we will provide ideas across the K-12 curriculum.
Who is this for?
Our Teachers Learning Code workshop has been designed for primary and middle school teachers with little to no coding experience to be able to teach coding fundamentals to their students. 
Prerequisites:
Participants must have an existing Scratch account and experience building simple Scratch projects. Complete our asynchronous Block-based Coding course, if you don't have this experience.
What's Included:
An awesome lead instructor and industry mentors!
A certificate of completion after this seminar
Requirements: 
You must bring your own laptop for which you have administrative permissions.
Please remember to bring your own powercord. A mouse can come in handy too!
You may be required to download some free software. After you sign up we will email detailed instructions.
We strive to host inclusive, accessible experiences that enable all individuals to engage fully. To request an accommodation or for inquires about accessibility, please contact accessibility@canadalearningcode.ca
Hey you! Have you joined the Canada Learning Code mailing list? It's the best way to stay updated and get information about upcoming learning experiences. Subscribe here.
Questions? Email us at info@canadalearningcode.ca
You can also find us here:
Hope to see you soon!
If you're interested in supporting our mission click here to donate.
About the organizer
We design, deliver and partner on technology education for people in Canada and run programs for Ladies, Kids, Girls, Teens and Teachers.
Nous concevons et mettons en œuvre des programmes et réalisons des partenariats d'enseignement de la technologie pour les femmes, les enfants, les filles, les ados et les enseignants du Canada.