Event Information
Location
Manitoba Teachers' Society
191 Harcourt Street
Winnipeg, MB R3J 3H2
Canada
TEAL Manitoba presents an exciting Mini PD opportunity: Monday, January 24, 2022, 6-7:30 pm
About this event
TEAL Manitoba presents an exciting Mini PD opportunity:
Using Technology to Enhance English Language Instruction
Monday, January 24, 2022 - 6:00-7:30 PM
This session will be offered online. Zoom link will be sent to registered participants closer to the session.
Join us for an engaging and valuable evening of ideas and suggestions for educational technology tools for EAL learners K-12. This focus of this session will be on technology that will enhance language learning for K-Grade 12 EAL learners and will be presented by current educators working with EAL/LAL students. They will explore a variety of educational websites and resources to support EAL learners, such as RAZ Kids, IXL, Twinkl, Math Antics, and so much more. They will also present ideas on how to incorporate these resources in the EAL classroom, for remote learning, and for LAL Literacy & Numeracy students While technology does net replace traditional pedagogy, with some help from excellent. While technology does not replace traditional pedagogy, it can enhance language learning for EAL learners with some help from excellent resources.
This session will be facilitated by Lisa Desmarais and Lori Ostermann:
Lisa Desmarais is an EAL teacher, having taught in France, South Korea and Egypt for many years. Lisa completed her M.Ed. with a focus on English as an Additional Language. The focus of her studies was on acculturation, cultural identity and social empathy within the school system. She is currently working in the St. James-Assiniboia School Division as an LAL/EAL Support teacher.
Lori Ostermann works in St. James Assiniboia School Division as an EAL Curriculum Support teacher, focusing on the Middle Years. She is part of a team that works toward the positive social, emotional, and academic growth of all EAL learners. Lori also collaborates with teachers in adapting material, instruction, and assessments. She has a passion for culture & the world and loves hearing about her students' journey and what life in Canada is like for them.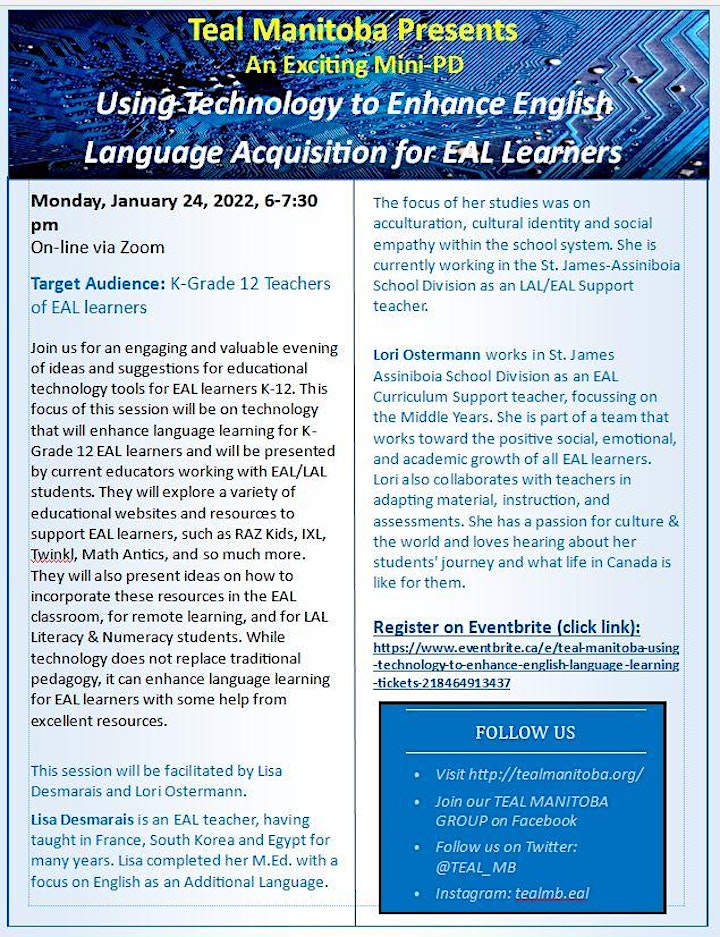 Date and time
Location
Manitoba Teachers' Society
191 Harcourt Street
Winnipeg, MB R3J 3H2
Canada