Description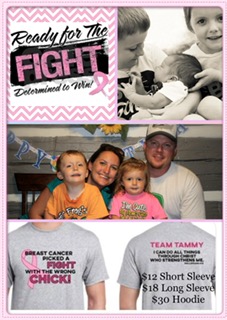 Tammy (Wimsatt) Belcher, age 35, has been recently diagnosed with Stage 4 Metastatic Breast Cancer - just 5 months after giving birth to her son Maveric. She is married to Eric Belcher and is a mother to 3 children: Max 8, Maggie 6 and baby Maveric 6 months. Please keep Tammy and her family in your prayers as she fights with all of her might to beat this awful disease and patiently waits for the cure. Your donation will help support her family as she undergoes treatment. Although there is no cure for breast cancer today, Tammy is determined to outlive the statistics and stay strong for her children and be a part of the Cure - Tammy's Cure!
$30.00 per Ticket
*This event is for 18 and older.
Purchasing Tickets:
Option 1. To purchase by debit/credit card and receive your tickets by email please click on the "Ticket" button on this page. Please keep in mind you will be responsible for the processing fees.
Option 2. To purchase tickets by check or cash please send a text to Christy Stone at 270-314-3291 or Jennifer Wheet at 270-307-4748 to make arragements for ticket purchase.
Option 3. To purchase tickets by mail please make your check payable to Christy Stone and please write Team Tammy in the memo. Mail your check to Christy Stone 8330 Knottsvile Mt Zion Rd. Philpot, KY 42366.
Option 4. If you see one of Tammy's family members you can give them your check/cash and we will mail you your tickets to the address you provide.
Option 5. If tickets are still available the day of the event you can purchase them at the door.
TSHIRTS !!!- If you would like to place and order for a Tshirt please call OR text Christy at 270-314-3291.
IF YOU ORDER YOUR SHIRT PLEASE WEAR IT ON THE 24TH!
We look forward to seeing everyone come together to show Tammy and her family they are not alone in this fight! For Event Updates please follow us on Facebook and search for "Fight for Tammy" and join!