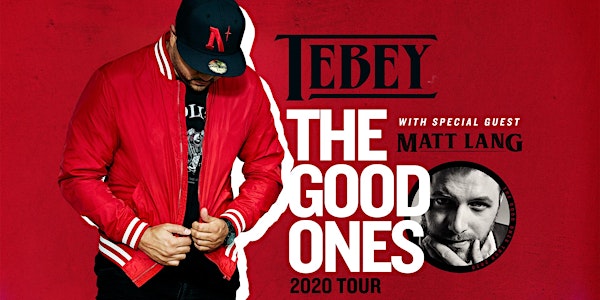 Tebey: The Good Ones Tour
Tebey w/ Special Guest Matt Lang
When and where
Location
The40 210-18 Street North Brandon, MB R7A6P3 Canada
About this event
We're excited to announce that we will be a part of Tebey: The Good Ones Tour w/ Special Guest Matt Lang this coming January!
Canadian producer, hit singer-songwriter and 2019 CCMA Album of The Year nominee, Tebey announced The Good Ones tour, stopping in Brandon, January 24, 2020.
The pre-sale (password protected) commences October 1st @ 10AM with an on-sale date of October 4th through eventbrite.ca and regular tickets will commence on October 4th @ 10AM through eventbrite.ca or come stop by and grab some tickets from us - tickets will be on sale for $20, $25 at the door if we don't sell out!
Tebey is a Canadian artist, producer and songwriter curently residing in Nashville, TN. These past 24 months have proven to be a banner two years for Tebey. In that short time span, he has secured three #1s as a writer – a #1 Billboard US single with Justin Moore's "SOMEBODY ELSE WILL," a #1 in Canada with Gord Bamford's "DIVE BAR," and his first #1 single as an artist (and writer) with his song, "WHO'S GONNA LOVE YOU" (5.5M streams to date). He also co-wrote his two latest singles – "DENIM ON DENIM" (Top 5 chart, certified Gold and over 8M streams to date) and "GOOD JEANS" (Top 5 chart and over 2.3M streams to date).
Overall, Tebey has four official top 5 radio singles in addition to two top 10 singles and four top 20 singles as a recording artist. Tebey has also earned seven #1s as a songwriter; one in the US, one in the UK, four in Canada and one in Asia. Notable pop artists to record his songs include One Direction, Fifth Harmony and FLO RIDA. Over the past six years, three of Tebey's singles have been noted for their substantial spin count, being named "Most Spun Canadian Country Song" of both 2013 and 2014, and his recent hit, "DENIM ON DENIM," was the third highest spinning song of 2018 in this category.
Tebey's last EP, "LOVE A GIRL," was released in the spring of '18, and he is currently working on his next EP, "THE GOOD ONES." The title track from the new album, a powerhouse duet with Québec pop superstar Marie Mai, was released on September 27. It's now at radio, is just breaking into the TOP 30 and has over 1.7M streams at DSPs. The video premiered on Entertainment Tonight Canada on September 26 and on Taste of Country in the US on September 27 and has well over 150,000 views to date.
Tebey is heading out on his first national headline tour in January 2020. In 2019, Tebey toured with Tim Hicks, coast to coast, as direct support on his "GET LOUD TOUR." He has won awards as a songwriter, artist, and for his work as a producer. His work with charities advocating for mental health care is his passion outside of music, anchored by his annual Tebey Golf Classic fundraiser partnered with Greater Peterborough Family Health Services. 2020 will mark year 4 of the tournament.