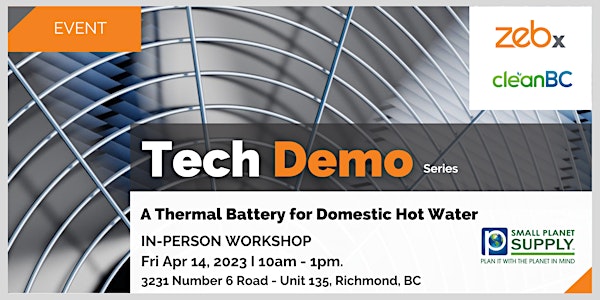 Tech Demo Series: Small Planet Supply
Join us for the next edition of our Tech Demo series
Date and time
Fri, Apr 14, 2023 10:00 AM - 1:00 PM PDT
Location
Small Planet Supply Warehouse 3231 Number 6 Road - Unit 135 Richmond, BC V6V 1P6 Canada
About this event
For our next Tech Demo workshop, we're featuring Small Planet Supply, a two-time recipient of CleanBC's Building Innovation Fund. We'll be taking our show on the road and hosting our workshop at their workshop! Sounds fitting, doesn't it? In addition to their drop-in, CO2-based WaterDrop domestic hot water heat pump system for large buildings, we'll be showcasing an innovative way to store energy using a phase change material instead of the traditional hot water tank. This method has the potential to store twice the energy that can be stored in water. You'll also get to check out a live experiment which uses the same phase change material for a domestic hot water swing tank (required for buildings with hot water recirculation lines and heat pump water heating). And while you're there, you can also find out more about their latest product – the Fresh-r HRV from the Netherlands. It's a high-efficiency, Passive House-certified, ductless HRV that's ideal for existing buildings. The ticket price includes lunch.
Speakers
Albert Rooks, CEO, Small Planet Supply
Albert Rooks has been passionate about energy efficient construction since 2009. He worked to establish and strengthen the Passive House Standard in North America. In 2010 he founded Small Planet Supply Inc., in Washington state. Featuring both a physical warehouse location and an online store, the company initially imported and distributed passive house components, including building tapes, membranes and mechanical systems. Realizing the need for builder education in using new products, the company began hosting educational workshops to increase designer and builder confidence in including these high-efficiency products in their builds. In 2016, Small Planet Supply opened a Vancouver, Canada location to provide products and training in response to Vancouver's Greenest City Initiative. Albert's current focus includes procurement, development, and production of high-efficiency mechanical systems for the North American market, including WaterDrop systems
Hayes Zirnhelt, Principal Consultant, Whole Systems Energy Consulting
Hayes Zirnhelt is the principal consultant at Whole Systems Energy Consulting, and is focused on accelerating decarbonization of the building sector. He works with governments, non-profits, and private companies to support the development and deployment of innovative technologies and design approaches that support building decarbonization.
Hayes is a registered Professional Engineer in BC, an ASHRAE Building Energy Modelling Professional, and has a Master's degree in Building Science. He has well over a decade of experience working on cutting edge efficiency and decarbonization projects across North America and internationally. Hayes serves as a technical expert and reviewer for technology prizes and accelerator programs, and zero carbon feasibility studies for districts and individual buildings, for clients such as RMI, NYSERDA, PNNL, Third Derivative, and the Clean Fight.
Hayes led the PCM research, modelling, and initial design for Small Planet Supply's prototype PCM heat pump water heater.
Waitlist
ZEBx will be maintaining control of the numbers, so if you're placed on the waitlist there's every opportunity we'll be in touch. Please feel free to add yourself to the waitlist if tickets are currently sold out. There is a high likelihood that more tickets will be made available in the near future.
Professional Development
After the event, attendees will receive a follow-up email with details of how to request credit confirmations.
Other associations, universities, colleges etc: a Certificate of Attendance is available
ADDITIONAL IMPORTANT DETAILS
Event Location
Please note change of location, this event will take place at 3231 Number 6 Road - Unit 135, Richmond, BC
There is ample parking available at the facility.