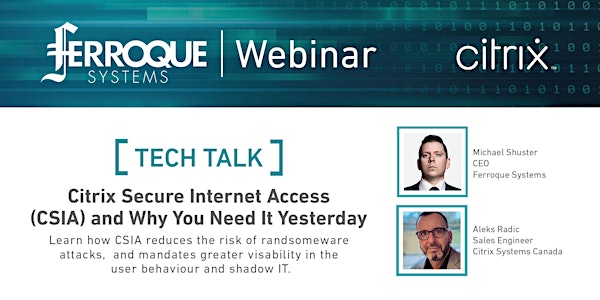 Multiple Dates
Tech Talk: Citrix Secure Internet Access (CSIA) & Why You Need it Yesterday
Join us as we discuss how CSIA assists organizations, regardless of size, to implement a zero-trust security solution for endpoints.
About this event
The pandemic has forced organizations to quickly and haphazardly adopt a remote working environment.  The use of legacy remote access solutions such as client VPNs, which has been curtailed by organizations in the past, has grown exponentially.  Employees suddenly must work remotely using their personal devices.  Unfortunately, in the absence of a modern IT infrastructure designed for a flexible work model, cyberattacks and data losses are imminent.  A recent study conducted by SMB Group has found the following to be the top security challenges faced by organizations when managing remote workforces:
 Home and unsecured Wi-Fi networks
Employees and contractors accessing corporate applications and data from non-corporate, unmanaged devices
Lack of visibility and control into Internet access and inability to manage shadow IT
Maintaining the security and minimizing data loss protection (DLP) for corporate and customer data
Internet security user awareness training
Costs for security tooling to mitigate organizational risks
Managing compliance with regulatory requirements
Historically, some of these risks could be mitigated through next-generation firewalls (NGFWs); however, their effectiveness is limited to the corporate network.  With the emergence of cloud access security brokers (CASB) and secure access service edge (SASE) platforms, organizations now have means to combat cyber security threats both inside and outside the corporate network.
CSIA, whose underpinnings have been developed over the last decade, secures and protects corporate data and prevents the compromise of endpoints and network infrastructure prior to malware landing.  The CSIA platform is easily auditable and manageable, and it outperforms its competitions tremendously.  On August 24th, Ferroque Systems and Citrix are teaming up to review the technology, adoption and performance of CSIA.  We will discuss how CSIA assists organizations, regardless of size, to implement a zero-trust security solution for endpoints.  We will also discuss how CSIA integrates into Citrix and SD-WAN ecosystems.
This free webinar will take place on Wed, Sept 15 and Thur, Sept 16 at 10am PST | 1pm EST. Please select a date that works best for you.
-----------
Ferroque Systems is a boutique consulting firm specializing in virtualization and digital workspaces for companies of all sizes. We've seen the good, the bad and the ugly in Citrix environments just like yours!
------
As a small token of our appreciation in you joining us for this webinar, we would like to mail you a Ferroque Coffee. If you would like one, please include your full mailing address.
------
Organizer of Tech Talk: Citrix Secure Internet Access (CSIA) & Why You Need it Yesterday