Tech+Art is an inclusive event for creative coders, makers and creators of all kinds!
About this Event
Tech+Art is an inclusive event for creative coders, makers and creators of all kinds! Together, we're exploring the new frontiers of creativity, humanity & machine intelligence.
Join us for a very special Tech+Art: Ottawa meetup event, featuring an inspiring panel of creative entrepreneurs from diverse art industries!
This panel discussion will delve into the benefit of creating connected communities between artists and technologists today, and how we can drive significant innovation from the collaboration between these two groups.
During past Tech+Art events, we've explored the careers, products and inventions of creative technologists (i.e. tech enthusiasts leveraging creativity), this time we aim to explore from the lens of diverse, mainstream artists in Ottawa in an age of technological advancements.
Some questions we'll explore include:
Should artists exist at the centre of emerging technologies?
How do we collectively design collaborative networks between artists and technologists?
Could we create novel ideas, products and services designed as a result of the collaboration between artists and technologists?
And could these novel creations from collaborative work fuel social impact and solve some of the world's toughest problems today?
In an age of technological revolution, how can traditional artists thrive long-term and more sustainably without getting left behind?
Most of all, our amazing guests will share their journeys and how they've impacted their respective industries through their own creativity and/or use of new technologies.
Panelists:
This panel will be moderated by Zainab Muse
Join us for:
6:00-7 PM: Networking, finger foods & drinks
7-7:40 PM: Panel Discussion & Q+A
7:40-8:30 PM: More chatting & sharing of ideas!
And meet with other Ottawa-based creatives post their Creative Entrepreneurship Masterclass Sessions at Invest Ottawa. Meet Quest, Arfie Lalani, Anthonia Bejide & Emily Ramsay.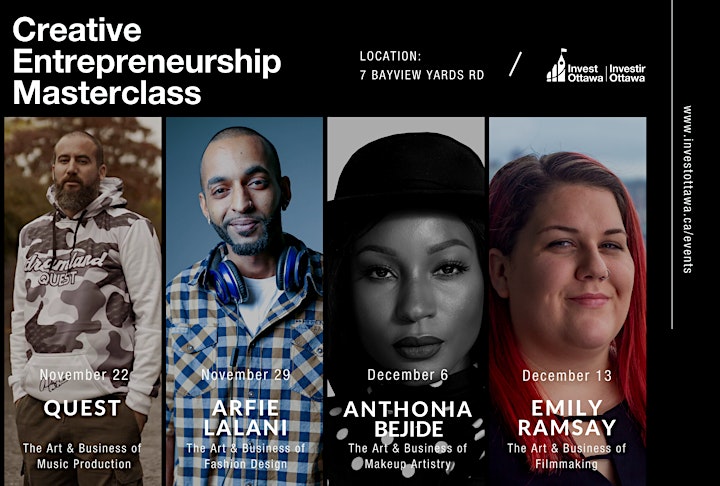 About our panelists:
Stacy Martin Bafi-Yeboa
Stacy is a visionary with a unique design background. Her time as a professional performing artist and dancer "on Broadway" in New York City is what sparked her passion to design.
Looking for a luxurious but comfortable clothing to compliment her life as a dancer, she found a gap in the market and began to design her own clothes; that's when Kania was born. Kania has gained national and international presence having presented at New York Fashion Week, Toronto Fashion Week, Project Las Vegas, and more.
Erin Benjamin
President & CEO of the Canadian Live Music Association since its creation in 2014, Erin Benjamin has worked in the Canadian music industry for over 25 years - first as a touring and recording artist and then as executive director of both Folk Music Ontario (2001) and the Canadian Arts Presenting Association (2008). In 2017, she enjoyed roles as both the vice-chair of the Ottawa Juno Host Committee and co-chair of Canadian Music Week. In May 2019, she was honoured with the United Way's Community Ambassador of the Year Award for her work in producing the impactful "After the Storm" benefit concert, raising tens of thousands of dollars for victims of Ottawa's devastating September, 2018 tornadoes.
In addition, Erin is the founder of the Ottawa Women in the Music Industry group. She also currently serves as a board of director or committee member for various organizations in the music industry like the Ontario Live Music Working Group, Ontario Creates Music Industry Advisory Committee, the National Arts Centre's National Creation Fund Advisory Committee and Algonquin College's Music Industry Arts Advisory Committee, the Ottawa Film Office, the Unison Benevolent Fund, MEGAPHONO and RBC Ottawa Bluesfest.
Lee Jones
Lee Jones is a PhD student at the Creative Interactions Lab at Carleton University. In her research she is developing e-textile toolkits so that anyone can design their own e-textile prototypes and have a say in the direction these technologies go in.
This past summer she was a research fellow at Open Style Lab in New York developing sewing toolkits with individuals with disabilities so they can alter their own clothes to be more accessible. She's currently teaching Wearable Technology at EcoEquitable and has taught the graduate course on Body Centric Technologies at OCAD University. She runs e-textile workshops around the city and you can sign up to be notified of her next one at electrostitches.com
Zainab Muse
Zainab Muse is an award-winning entrepreneur, process designer, interactive digital media expert, author and filmmaker. She is the founder & CEO of Wingd Inc. and Creatorland. Some of her core mandates include advocating for: youth leadership, entrepreneurship in underrepresented communities, intersectionalities between art & technology, as well as pluralism through diversity and inclusion.
She has worked as a filmmaker with Bell Media & CBC Ottawa, authored Ottawa's first millennial guidebook titled, 'An Insider's Guide to Canada's Capital', created 'Winston' - a digital concierge tool for boutique hotels in partnership with Alt Hotel, and currently serves as a board of director for RBC Bluesfest, City for All Women Initiative(CAWI) and the Michaëlle Jean Foundation. Zainab is continuously recognized as a strong advocate of using design to create connected communities & industries. In addition, she was also recently named one of the 'Top 10 Shifters in Ottawa' in 2018. In 2019, she was awarded 'Entrepreneur of the Year' by the Women in Communications & Technology (WCT) and became the first Canadian Chapter Lead for Singapore/New York based organization, SoGal Foundation, with a mission to close the diversity gap in entrepreneurship.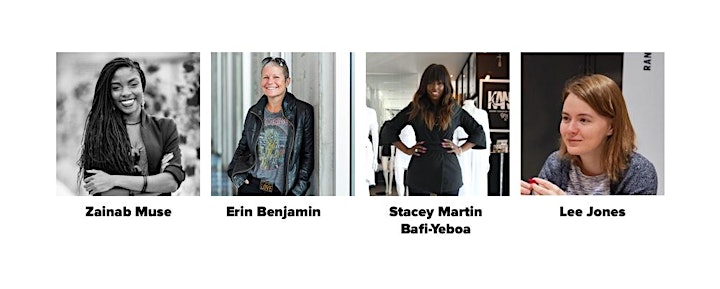 About Tech+Art
Tech+Art is an inclusive event for creative coders, makers and creators of all kinds! We're exploring the new frontiers of creativity, humanity & machine intelligence.
Tech+Art is an event that seeks to empower those who look at our world through a different lens. Those curious few who ask themselves: 'what if?'
Our events are casual, friendly & inclusive!
We're looking for diverse individuals who aren't afraid to try something new and who are looking to share and learn with a wide community of diverse "makers" (artists, coders, technologist). Together we can create amazing things!
Sponsors
Thank you to our generous sponsors who helped make this event possible!