Location
SFU Surrey Campus
250-13450 102 Avenue
Room 5240
Surrey, BC V3T 0A3
Canada
The legacy of TechBC and how it laid the foundation for SFU in Surrey
About this event
The Technical University of British Columbia (TechBC), a start-up university located in what was then Surrey Place Mall, began offering classes in 1999. At the time, some described it as the 'MIT of the North,' and it was certainly first-of-its-kind it in its use of technology in teaching and learning.
So what happened to TechBC and why does this matter?
The BC Liberal government closed TechBC in 2002 and its programs and staff were transferred to SFU. On the occasion of SFU Surrey's 20th anniversary, we invite you to a panel discussion with former members of the TechBC community. The speakers will reflect on TechBC's remarkable achievements and legacy despite its short life, and discuss the impact TechBC has had on SFU and on their own careers.
Panelists:
Tim Rahilly, President, Mount Royal University
Thecla Schiphorst, Director, School of Interactive Arts and Technology
Jason Toal, Educational Consultant, UBC Okanagan
Tammy Mooney, former president, TechBC Learners Association
Moderator: Holly Hendrigan, SFU Library / TechBC Memory Project
Welcome Remarks: Steve Dooley, Executive Director - SFU Surrey
Masks are encouraged at this event. Refreshments will be provided.
The panel discussion will be from 12:30 pm to 2:00 pm, and will be livestreamed on Zoom. From 2:00 to 5:00 pm, there will be an in-person social event. The in-person event will not be on Zoom.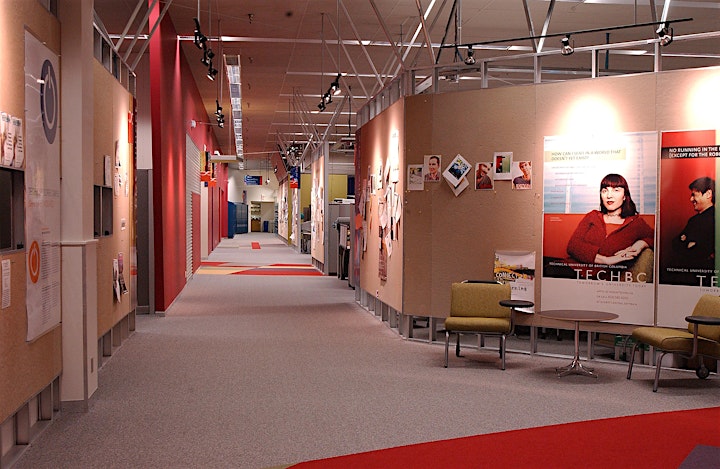 Do you have photographs or other records documenting TechBC, its staff, students or events? SFU Archives is seeking additions to the official TechBC fonds. Contact Melanie Hardbattle, Acquisitions and Outreach Archivist (mhardbat@sfu.ca) for more information.