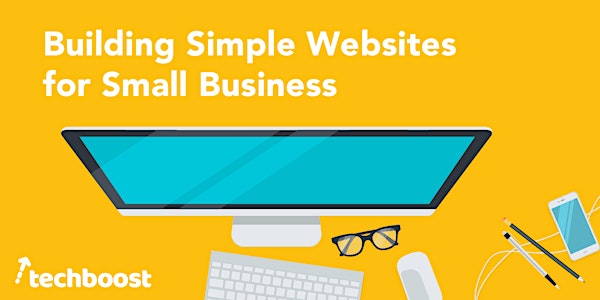 TechBoost: Building Effective Websites for Small Businesses [LaSalle]
Location
Essex County Library - LaSalle Branch
5950 Malden Road
Windsor, ON N9H 1S4
Canada
Description
Simple and Effective Websites for Small Business
Generously funded by a Libro Credit Union Prosperity Grant, The TechBoost Program supports the growth and development of small businesses in Windsor-Essex by providing affordable training in information technology tools and products for business. TechBoost is an initiative of Hackforge, supported by the WindsorEssex Small Business Centre.
Skill Level: Beginner
Audience: For owners or employees of small businesses who don't have a website but know they need one or you have a website and you'd like to improve it or be able to make changes without a developer.
Pain Points:
Do you need to create a website for your business, but not sure what platform or service to use?
Have you heard about Wordpress, or even tried it and feel overwhelmed by what's involved?
Do you have an out-of-date website and want to update it with a fresh and elegant design?
Why Take this Workshop: Every business needs an online presence, especially a website. Even if you don't sell products online, most consumers find services or products by researching first online. A website doesn't need to be complicated to be effective.
Goal: This workshop will help you to determine what you want a website to do for your business. It will also explore the options to build it yourself or to engage professionals.
We'll Cover:
What considerations you should make when planning to build a website

A overview of the main platforms available for website development

What's involved in hiring professional developers

Exploring how to create a website with Wordpress.com

How to edit website templates on Wordpress
Materials: Please bring a laptop computer and charger if you would like to follow along.

Participants of this workshop are also welcome to attend any of our Open TechBoost Nights at Hackforge where you can bring your laptop and try out new tools in a casual environment with other business owners.
Instructor: Nick Russell, Russtek Media
Russek Media has a strong passion for helping people and wants to see local businesses succeed. Nick has spent many years working in all industries such as IT, tool and die, retail management, brand ambassador and charity social media marketing.
About TechBoost
The TechBoost Program supports the growth and development of small businesses in Windsor-Essex by providing affordable training in information technology tools and products for business.
We understand that running a small business is a 24/7 type of job, so spending time trying to choose the right technology solution or learning how to use a new kind of software for your company can be daunting. We want to help.
We're offering a series of 10 different workshops, offered multiple times and in multiple regions in Windsor-Essex over the course of 2018 that touch on various topics related to implementing technology into your small business. This includes tools for marketing, organization, finance, sales and productivity.
About Hackforge
Hackforge is technology enthusiasts growing the tech capabilities of our region by creating connections and learning together. Located in the heart of downtown Windsor, Hackforge serves as a community-drive workshop space, coworking area, and event location. Our events vary from hands-on workshops to professional networking to technical talks. In the community, we advocate for technology in education, professional development, and policy making.
About Small Business Centre
Since starting up in 1992, the Small Business Centre (SBC) has provided thousands of entrepreneurs with the training and support necessary to start and grow successful businesses. SBC is a one-stop source – providing guidance and professional advice from concept, through start-up and early growth stages of business.
SBC operates as a department of the WindsorEssex Economic Development Corporation in partnership with the Ontario Ministry of Economic Development and Growth. Belonging to a network of offices that serve Ontario's small business community, SBC is your local source for small business support services. SBC offers two locations in Windsor and a satellite office in Essex.