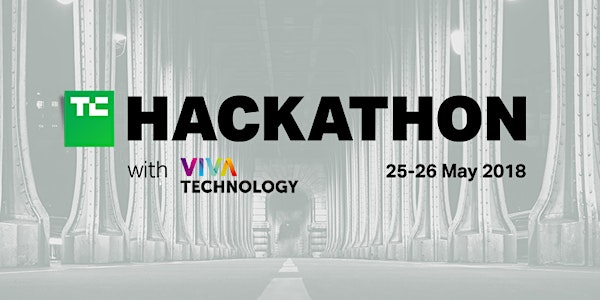 TechCrunch Hackathon at Viva Technology (2018)
When and where
Location
Paris Expo Porte de Versailles 1 Place de la Porte de Versailles 75015 PARIS France
Description
WHERE GREAT PRODUCTS ARE BORN IN 24 HOURS
Calling all developers, UX/UI designers and tech creators in Europe! TechCrunch is hosting its next hackathon in conjunction with VivaTech in Paris on the 25-26 May and we're looking for some talented hackers to put their ingenuity to the test and build something awesome in just 24 hours. VivaTech is the perfect spot to host our hackathon as startups, business leaders, investors, academics, students, and media from Europe and around the world will descend on Paris to preview the future.
Any questions? Check out our FAQ.
If you can't find your answer, please write to su@bemyapp.com.
---


THE CHALLENGES


Microsoft
Microsoft is inviting hackers to join one of 9 projects AI for good: 2 health projects and 7 existing social good projects in collaboration with Station F's Tech for Good accelerator: ShareIT.io. The 7 projects are around gender equality, natural disasters, health, education, refugees, and civil rights. They are looking for talented developers and AI engineers to collaborate with them to have a social impact on their contribution. Microsoft will select one of these projects as their winner and each member of that team will receive a Microsoft Surface. You can find a brief description of these projects below:
Droit d'Urgence - Equal Community Foundation - Hackers Against Natural Disasters - LearnEnjoy - Singa - Social Builder - We are not Weapons of War - G.H. Pitié Salpêtrière - Hopale Foundation (more details on the last 2 projects coming soon)
GEFCO & TALAN
GEFCO and TALAN gather on Vivatech in order to identify innovative services for vehicles mobility. Car repairs are time-consuming. and it can be a big issue for Car Rental companies who need to find a garage, organize transport, collect information, etc. Your mission: imagine a system that will enable cars (or drivers) to request maintenance services directly from the car to the suppliers. Solutions can range from a "dash button" for the final customer to signal issues using IoT and an AI predictive maintenance system, to a gamification system allowing the final customer to manage car repair evaluations.
IBM
Think you can build an awesome AI-powered app for iOS in a few hours? You can with IBM's Watson and Apple's Core ML. You'll train your own machine learning models and use them in your apps quickly. Your challenge? Let your imagination run wild as you build an app that couples AI with videos and photos to face down real problems; perhaps monitor a baby's sleep for harmful situations. The prize is €5k, but beyond that, this hackathon will let you deliver a lasting and significant impact.

leboncoin
Almost everyone in France knows leboncoin, 98 million exchanges per year, leboncoin is the first classifieds site in France, in real estate, jobs, vehicles and other categories, with 1 million new ads every day. leboncoin is challenging our hackers to develop a marketplace of the future that emphasizes and improves on the relationship between the buyer and the seller. Feel free to use innovative technologies like augmented reality, IoT and artificial intelligence - the hacker with the most creative product will get €5000.
Groupe Renault

Groupe Renault is developing safe and smooth driving technology to offer trustful Autonomous Driving on mainstream vehicles. This technology is complemented by the launch of new connectivity services that will make it easier for people to stay connected to their work and leisure activities, to their car's performance, to infrastructure and to each other.
We're challenging hackers to help us shape the future of Autonomous Vehicle by inventing innovative services, for both inside and outside the car, that will contribute to bringing new experiences to customers and cars.


---
AGENDA
Friday 25 May
11:00 am - Registration Opens
01:00 pm - Official launch + Sponsors pitches
02:15 pm - Matchmaking session / Coding starts
02:45 pm - Workshops start
06:00 pm - First checkpoint

07:00 pm - Code
07:30 pm - Dinner
00:00 am - Midnight Snack
Saturday 26 May
08:00 am - Breakfast
11:00 pm - Second check point
12:00 pm - Lunch
01:00 pm - End of code
03:00 pm - Final demos
05:00 pm - Jury deliberation
05:30 pm - Winners announcement
06:00 pm - End of hackathon
PRIZE POOL
The winning team for each challenge will be receiving 5,000€.
The overall winner will not only receive an extra 5,000€ but 2 tickets to TechCrunch's Disrupt Berlin 2018 and 5 tickets to VivaTech 2019 on top of that! Get your tickets now!
---
TECHCRUNCH
TechCrunch is a leading technology media property, dedicated to obsessively profiling startups, reviewing new Internet products, and breaking tech news.


VIVA TECHNOLOGY
From May 24 to May 26, 2018, Viva Technology will bring together 6,000 startups with top worldwide investors, companies & tech leaders. To discover more about Viva Technology, click here to check out our website!
Any questions? Check out our FAQ.
If you can't find your answer, please write to su@bemyapp.com.