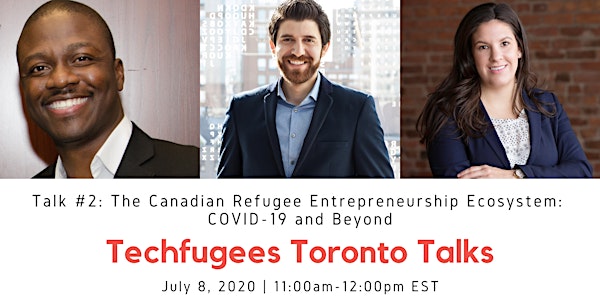 Techfugees Toronto Talk #2: The Canadian Refugee Entrepreneurship Ecosystem
Join us for a special #WorldRefugeeDay edition of Techfugees Toronto Talks exploring Canadian refugee entrepreneurship during COVID-19.
About this event
We are back!
Join us on July 8 for The Ecosystem of Canadian Refugee Entrepreneurship During COVID-19 and Beyond—the second conversation in our Techfugees Toronto Talks series.
Don't miss this timely discussion about refugee entrepreneurship at a time of economic and social uncertainty. This panel will investigate both the landscape of refugee entrepreneurship right now in Toronto and Canada, as well as the potential opportunities that COVID-19 may present for refugee entrepreneurs in the future. Our panelists bring unique expertise and perspectives from the entrepreneurship ecosystem—a policy perspective, an NGO support agency, and a Canadian refugee entrepreneur.
Tune in to explore some insights and ideas from our incredible panelists as we ask the following questions:
How has COVID-19 affected Canadian refugee entrepreneurs?
Where are the biggest opportunities for refugee entrepreneurs in a post-COVID-19 world?
How can the government, non-profits, and the private sector continue to support refugee entrepreneurs in this current situation and in the future?
Who should join?
Anyone can join!
This talk may be particularly interesting to refugee entrepreneurs, settlement agencies, and organizations supporting refugees, academia, people working in innovation and entrepreneurship spaces with interest in impact and inclusion.
Our panelists:
Tareq Hadhad, Founder and CEO, Peace by Chocolate (@TareqHadhad, @Peacebychoco)
Kate Tomen, Manager, Operations and Business Development, Angel Investors Ontario (@KateTomen, @OntarioAngels)
Otis Mushonga, Manager, Programs & Services, ACCESS Community Capital Fund (@OtisMushonga, @accessCCF)
Moderator:
Mounir Nasri, Co-Lead, Techfugees Toronto & Project Officer, Strategic Planning, Local Immigration Partnership (@mounirona, @techfugeesto)
How do I attend?
We will send out a Zoom link in advance of the talk.
#WorldRefugeeDay
As part of this year's World Refugee Day, Techfugees Toronto will be celebrating refugee-owned businesses across Canada. From June 20 until July 8, we'll be highlighting one business a day on our social media channels. We aim to create an open database of refugee-owned businesses to have a centralized resource to continue supporting! We'd love to hear from you if you are a refugee entrepreneur or if you know refugee-owned businesses that could benefit from additional promotion. Please visit our form for submissions.
About Techfugees Toronto Talks
Techfugees Toronto Talks, organized by the Techfugees Toronto chapter, is a virtual conversation series covering local and global topics related to Techfugees' mandate of nurturing a sustainable ecosystem of tech solutions supporting the inclusion of displaced people.
About Techfugees
Techfugees is an impact driven global organisation nurturing a sustainable ecosystem of tech solutions supporting the inclusion of displaced people. We exist to empower displaced people and support tech innovation that's designed by, with and for them.
Questions? Accessibility requests? Email us: toronto@techfugees.com
Follow us on Facebook & Twitter. #tech4good #tech4refugees #TechfugeesTO