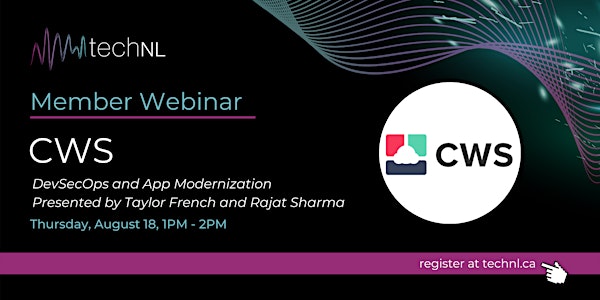 techNL Member Webinar: CWS
Join us on August 18th for our next webinar hosted by CWS - DevSecOps and App Modernization.
About this event
Technology is a fast-paced environment; companies will often find themselves working frantically to prepare for that important MVP release. "Move fast and break things" has become an industry-standard phrase, and fully encapsulates this idea of getting a product out to consumers as quickly as possible, no matter the cost. However effective this framework may be, it often leads to security and compliance being treated as an afterthought, which can lead to serious concerns during the product life cycle. These looming security risks can very often lead to delays in delivery, and be a major headache for all stakeholders.
Luckily, with the introduction of DevSecOps methodologies, there are many tools available to development teams to modernize their applications in relation to the security and compliance landscape. Moreover, by taking a developer-first approach to security and shifting security earlier in the software development life cycle, companies can test not only their applications, but the cloud infrastructure these applications depend on for security vulnerabilities in a manner that is already familiar to developers.
During this webinar, CWS will provide an introduction to these DevSecOps methodologies, as well as an introduction to the Seismic Shift Left in security and compliance testing. Moreover, we will demonstrate these tools in action, and how teams can implement them into their own product life cycle, allowing them to rest peacefully knowing that their applications are secure from Day 0 and adhere to all applicable compliance frameworks.
Register now!