Technology Adoption & Evolution, Friend or Foe with Paul Falohun - Multicul...
Description
An event focused on assisting Victoria's immigrant business owners, entrepreneurs, professionals and interested parties to connect with the community of like minded professionals.
Speaker: Paul Falohun

Technology Adoption & Evolution, Friend or Foe with Paul Falohun
For this monthly mixer in March VMBC's guest speaker, Paul Falohun will be talking about how to protect yourself and your business from cyber attacks and be more informed about the trendy cyber security risks of today.
Paul Falohun is a Senior Security Analyst with the Office of the Chief Information Officer (OCIO) of BC. His main duty is to assist with the implementation of security initiatives across the Province.
Paul has consulting experience and has worked with 2 of the "Big 4" professional services firm. He has a Bachelor's Degree in Computer and Network Systems Engineering and a Master's in Business Administration, and is proficient in Russian language.
He currently serves on the board of ISACA Victoria Chapter as Certifications Director. Among others, Paul holds the following certificates:
CSX-F (Cyber Security Nexus Foundation)

CISM (Certified Information Security Manager)

COBIT 5 Business Framework for Governance

ITIL-F Certificate in IT Service Managemen
When:
March 14, 2018 @ 5.30 pm - 7.30 pm. Please note: Registration begins at 5.00 pm.
Where:
Community Room, Central Library, 735 Broughton St, Victoria, BC, V8W 3H2

There is public parking in the basement below the library. Also parking at the various parkades (see map below) is free for the 1st hour and free after 6 pm. That means if you park at 5 pm, you will have free parking for the event. More details here.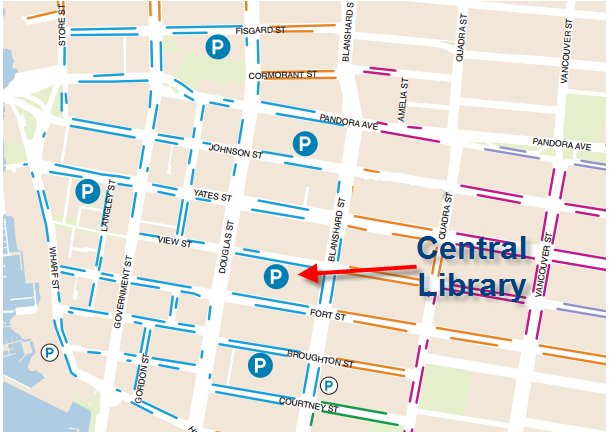 Organized by:
Victoria Multicultual Business Connector (VMBC)
Sponsors:
Benefits:
Consult with experts

Find resources

Build network

Meet investors
Disclaimer Notice:
Please be advised that photographs may be taken at the event for use on the VMBC website and in the press, VMBC marketing materials, social media and other publications. By entering this event, you consent to the VMBC photographing and using your image and likeness.
If you do not want to be on the pictures for some reason, please let us know at the front desk when entering the event.
ᐧ