Learn about upcoming and exciting developments in the world, and how the current COVID-19 pandemic is impacting businesses!
About this Event
Learn about Tech. Talk to Entrepreneurs. See what's happening in your community.
Are you interested in learning more about career paths in a variety of fields, starting from high school or university? Are you looking to hear about upcoming and exciting developments in the world, and how the current COVID pandemic is impacting businesses? If so, the TU20 Expo is for you.
The TU20 Expo is a 3-day event with 2-3 hours of talks, panels, workshops and networking opportunities each day to allow you to learn about important topics in a broad range of fields, and hear success stories from industry leaders.
This year, the TU20 Expo will be completely virtual, but with all the same value and insights that we have brought in previous years. Topics will include Health and Technology, Data Science, Marketing, Design, AI, Entrepreneurship and more . Don't miss out on a chance to get a step up and gain insight from leaders in their fields!
Up to 30 registrants will have access to our Premium Day by donation, and all proceeds will go towards the Oakville Hospital Foundation to help during this time of need. Not only will you get the chance to hear panels dedicated to careers and university pointers, ranging from undergrad to graduate studies, but the more personal and smaller group setting of the Premium Day will allow you to ask more questions you have and have more time to speak with speakers. The following two days also include various panels, along with talks and workshops about relevant topics and skills needed in today's world.
If there are any remaining spots for the Premium Day, they will be given first come first serve to those that sign up for Expo, and you will be notified by email within 1 week of the event to confirm your spot. During checkout, you will be asked if you are interested in this opportunity
Key things to look forward to:
All guest speeches will be given through online video conference software
Fun, breakout sessions to help you network with like-minded individuals and the opportunity to chat with leaders in various fields
Q&A periods, giving you the opportunity to engage your learning
Project Demos of cool things your peers are working on
Itinerary and Speakers
Here is the itinerary for the TU20 Expo, as well as the speakers who will be providing insight about the industries they're in! Click each speaker's name to view their LinkedIn and learn more!
Day 1: Sept 18 evening (limited spots!)
6:00 PM: Intro + networking
6:10 PM: Keynote - Mike Branch
6:40 PM: Careers Panel - Prieeyya Kaur Kesh, Shashaank Srinivasan, Kim Cooper
7:10 PM: Networking break
7:20 PM: Starting a Business Talk - Prince Khan
7:40 PM: Undergrad Students Panel - Ahmed Raja, Zaria Hossain, Jason Amri
7:40 PM: Graduate Students Panel - Shayan Majidy, Ozum Kafaee, Teena Surujdin
8:10 PM: Conclusion
Day 2: Sept 19 afternoon
2:00 PM: Intro + networking activity
2:15 PM: Keynote - Nadeem Nathoo
2:45 PM: Social Impact Fireside Chat- Anish Verma, Graham Hill, Daniel Francavilla
3:15 PM: Health Tech talk - Don Stewart
3:35 PM: Data Science Workshop - Fouad Yousif
4:05 PM: Networking break
4:20 PM: Finance Talk - Joe Atallah
4:50 PM: Conclusion
Day 3: Sept 20 afternoon
2:00 PM: Intro to Day 3 + networking activity
2:10 PM: Marketing Talk - Astawa Alam
2:30 PM: Entrepreneurship Panel - Patrick Lee, Chris-Beth Cowie, Charlene Nadalin
3:00 PM: The Future of Tech Talk - Ramandeep Saini
3:20 PM: Design Workshop - Shashaank Srinivasan
3:50 PM: Networking break
4:05 PM: TU20 Student Projects Demos
4:50 PM: Conclusion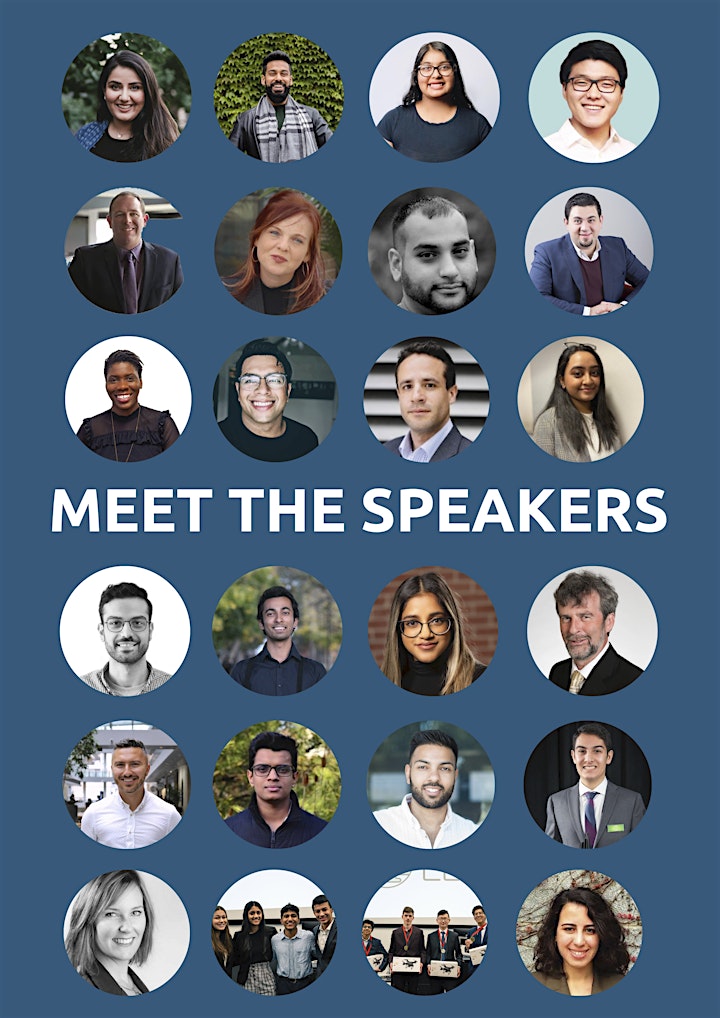 TU20 Membership
We're happy to announce the TU20 membership! With the TU20 Membership you get access to:
- Discounts on TU20 events
- Exclusive networking opportunities with TU20 mentors and industry professionals
- Invitations to special events
- Online resources in Technology, Business, and Entrepreneurship
Date and Time
Location
Refund Policy