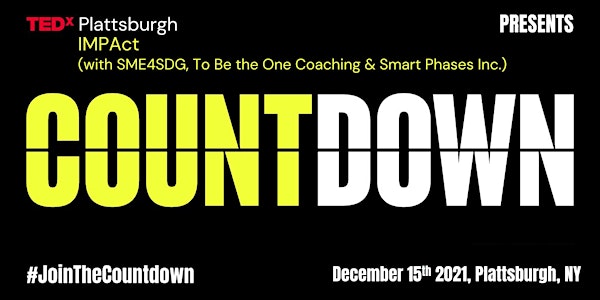 TEDx Plattsburgh 2.0 - IMPACT by SME4SDG, TBTO Coaching and Smart Phases
Refund policy
Contact the organizer to request a refund.
Eventbrite's fee is nonrefundable.
TEDx Countdown Event: IMPACT - Women Leadership for inclusive Climate Action Unifying through Diversity to tackle Climate Change
About this event
TEDx Plattsburgh 2.0 Virtual Countdown Event
IMPACT - Women Leadership for inclusive Climate Action
How did the common story of Climate and Gender Equality begin? Have you ever thought?
Yes, they have a common story going back to BC. We will better understand why both Climate Change and Gender Inequality are human-made crisis.
Human-made crisis need human-made solutions including all pillars of human skills – cognitive, affective, physical and … social-. And that is what we are missing when it comes to Persistent Action for Sustainability Goals: Bottom-Up Multifaceted Approach.
Women Leadership has a unique advantage in bringing this Approach to life as women leaders have been shown by research that they are more empathetic, socially responsible, and transformative.
However, Women also have unique disadvantages as represented by the 30:80:39
*30% of leaders globally are women
*80% of the of people displaced by climate change are women
*39% of the global labour force is represented by women
Even though 51% of the Earth's population is made by women and girls.
On the other side of the coin:
• across 130 countries, women in government positions were more likely to sign on to international treaties to reduce global warming than men.
• women adopt innovative and preventative measures at a faster rate than men
• where women have higher social and political status, their countries have 12% lower CO2 emissions
Those success stories are mostly due to unique women leadership characteristics. Does it mean we should neglect male leaders? Women and men leadership are alike Yin and Yang and they are complete each other for ONENESS. We cannot have a greener, healthier, fairer, and sustainable world where there is a gap between genders in terms of leadership.
At this event, we will discuss in-depth,
 Where are we at and what is the Threat waiting for Women Leadership for Sustainability
 What should we do so that Female Leaders will rise?
 Which trap shouldn't we fall into?
 Myths we need to change NOW!
It is time to RISE from the GOLDEN MINE of HUMANITY in the old days (BC) when women, men, and nature were perceived and respected as ONE. We need to be the `ONE` to become `ONE`. Are you ready? Then Join Us!
Co-Hosts:- Dr Ayse Basak Cinar Lowe, Award Winner Coach 4 Leadership and Wellbeing/ Speaker/Sustainability, and- Stephane Bilodeau, Eng., PhD, FEC, Chairman of Smart Phases Inc. and co-founder of the International SMEs Forum 4 SDG Acceleration.
Accompanied by an awesome set of international panellists for the exchanges and discussions.
- Divya Singhal, Chairperson - Centre For Social Sensitivity and Action (CSSA) and Professor at Goa Institute of Management, India
- Jess Gosling, Innovation Strategy @ UK Gov I 100 Future Leaders 21' I PhD in Soft Power I Culture, tech & innovation nerd I XWH Neurodiversity Network Co-Chair, United Kingdom
- Meral Guzel, Partnerships Manager, Women's Entrepreneurship Accelerator at UN Women, New York, USA
- Renahan Gil, Corporate and Public Affairs; ESG; Sustainable Development; Public Policies Greater São Paulo Area, Brazil
- Roshan Kindred, Chief Diversity Officer at PagerDuty, California, USA
- Selin Ozunaldim, Girl Up, United Nations Foundation, and National Gender Youth Activist, Turkey
#Jointhe Countdown for this second TEDxPlattsburgh TED Countdown Event on December 15th
And look at our first event held in November 2021(link below)