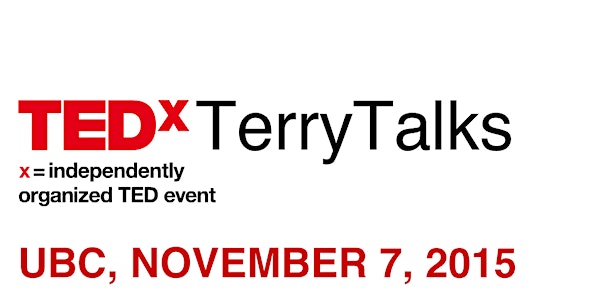 When and where
Location
Life Science Institute, LSC2 (lecture hall) University of British Columbia 2350 Health Sciences Mall Vancouver, British Columbia V6T 1Z3 Canada
Refund Policy
Contact the organizer to request a refund.
Description
STAND-BY LINE INFORMATION: Like in previous years, we will have a standby line set up, where we plan on selling extra tickets to cover the no-shows. Note that this will start proper at 9am, and based on past years, there's usually a good chance of at least a dozen or more tickets being available. Please do bring exact change if this is something you're going to try for.
- - -
Imagine UBC's most fascinating and engaging students coming together for a day, giving 'the talk of their lives,' sharing their ideas and discussing their visions for UBC and the world.
- - -
The UBC Terry Project is pleased to again present our student conference, one that focuses on the inspired efforts of the very folks you share classes with. The 2015 "TEDxTerryTalks" will be held on November 7th, 2015. Here, students will be given a high profile platform to communicate their passions and desires to an audience of their UBC peers. It essentially borrows a template from a well-established conference known as the TED conference, and modifies it for delivery within the UBC setting.
The general intent is to bring together the University's most fascinating student thinkers and doers, who are challenged to give the talk of their lives. Under this context, the conference accommodates 9 selected student talks from a wide range of interests and backgrounds. The talks will be held at the Life Sciences Institute, where one can engage as many as 350 audience members. The talks will also be video archived for online presentation.
As well, work is currently under way to also allow for booths and mingling opportunities outside of the actual speaking engagements. These opportunities will be held in an adjacent space - the East Atrium of the Life Science Institute. And note that Dave Ng, Han Solo and Chewbacca will be back MCing the event.
TEDx Terry Talks - 2015 Speakers (titles subject to revision)
Undergraduate:
Nirel Marofsky - "Polyamory:

Changing The Way We Think About Relationships

"


Jennine Punzalan

– "The Privilege of Campus Involvement"
Lingxi Li and Angela Ji – "

Mind The Gap: Access barriers from lab to patient care

"
Rhoda Philip – "Say yes to fate but beat all the odds"
Samia Khan - "Social Media: Too Much of A Good Thing?"
Miguel Rozo - "On how an immigrant's resilience does not end with migration."
Malaika Kapur and Kuzi Mutonga - "Changing the African Conversation: Ke Nako (It's time!)"
Graduate:
Sean McCotter – "Sex, Smuts, Molds and Mushrooms: An Exposé of Fungal Fornication"
Alumni:
Joanna Ludlow - "How to sail to Alaska in 3 easy steps"
If you're interested in volunteering for the day, or have a student group interested in setting up a booth, please email us at terrytalks@gmail.com
Like our Facebook Page or follow us on twitter at @terryubc. (These are the best ways to get most up to date info from the Terry Project generally)
- - -
A few logistics for those registered:

1. There is only one door that will be opened at the Life Science Center on the day of the conference. This is the main entrance, which is the door on the SW side of the building on Health Sciences Mall.
2. On site registration (which will essentially revolve around picking up a conference badge near the entrance to the lecture hall) will begin at 9am. At this time, a stand by line for "standby" ticket puchasers will also begin.
3. Registration will close at 9:45am sharp, we ask that you make every effort to complete this task so that you can be in the lecture hall (LSC 1) by that time. Please bring your original Eventbrite registration email for confirmation purposes.

4. At 9:45am, we will do an attendee count, and begin allowing folks from the standby line to register and enter the talks. This means that those of you with a student/staff/faculty/alumni ticket may lose your spot if you arrive past this 9:45am time point.

5. Catering has been arranged for each break and (with conference badge in hand) will be made available in the adjacent East Atrium (where 15+ student group booth, and general seating can be found). Note that food and drink is not allowed in the lecture hall: as well we encourage you to bring your own mug (although compost friendly cups will be available).