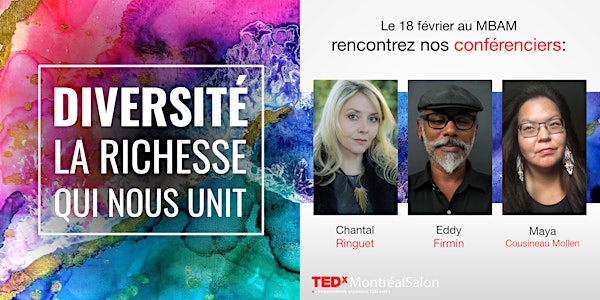 TEDxMontréalSalon - Diversité : la richesse qui nous unit
Découvrez des idées et des histoires pour mieux faire émerger les similitudes qui nous rendent humains.
When and where
Location
Musée des beaux-arts de Montréal 1380 Rue Sherbrooke Ouest Montréal, QC H3G 1J5 Canada
About this event
Montréal se définit souvent par sa diversité de cultures, groupes et identités. Mais qu'est-ce que tout cela signifie pour nous ?
Le 18 février 2020, nous vous invitons à réfléchir à la véritable signification de la diversité dans un espace qui voit au delà des frontières, des définitions et du monde tel que nous le connaissons.
Lors d'une soirée intime au Musée des beaux-arts de Montréal, TEDxMontréalSalon présentera des idées et des histoires qui mettent en avant nos différences pour mieux faire émerger les similitudes qui nous rendent humains.
Attention : les conférences seront données en français uniquement.
Conférenciers:
- Maya Cousineau Mollen est poète, originaire de la nation Innu, mais adoptée par une famille Québécoise. En tant que poète, Maya concilie ses deux cultures. Elle exprime cette dualité dans sa poésie et à travers son rôle de Conseillère en développement communautaire chez EVOQ Architecture.
- Chantal Ringuet, auteure, chercheuse et traductrice littéraire canadienne primée, ​s'intéresse plus particulièrement à la littérature et à la culture yiddish. Ses travaux sur la culture juive étant basés sur l'appropriation culturelle d'une mémoire qui n'est pas la sienne, Chantal intègre les structures de cette culture dans sa propre démarche intellectuelle.
- Eddy Firmin est un artiste d'origine caribéenne et docteur en Études et Pratiques des Arts de l'UQAM. Il explore, à travers son art, ses riches héritages pour allier des éléments visant à restaurer un imaginaire brisé par la colonisation.
Plus d'informations :
- 100% des ventes de billets sont investis dans la production des événements, ce qui permet de diffuser les idées dans le monde entier - toute l'équipe et tous les intervenants sont des bénévoles.
- Veuillez noter que l'ensemble de l'événement sera photographié et filmé, l'achat d'un billet signifie que vous consentez à être photographié et filmé.
- Nous n'offrons pas de remboursement de billets achetés
- Pour plus d'information, contactez-nous à: info@tedxmontreal.com
Cet événement est présenté en partenariat avec le Conseil des Arts de Montréal.
---
Montreal is often defined by its makeup of a multitude of global cultures, groups and identities. But what does all of this mean to us?
On the night of February 18th, 2020, we invite you to ponder the true meaning of diversity in a context that transcends borders, definitions, and space as we know it.
During an intimate evening at the Montreal Museum of Fine Arts, TEDxMontréalSalon will showcase ideas and stories that look deeper into what differentiates us, for the purpose of finding the similarities that make us human.
Please note that the conferences will be given in French.
General information :
- 100% of all ticket sales are invested into producing the event that help spread the ideas worldwide - the entire team and all the speakers are volunteers.
- Please note that the entire event will be photographed and filmed, the purchasing of a ticket means you consent to being photographed and filmed.
- We do not offer refunds.
- For more information please contact us at: info@tedxmontreal.com