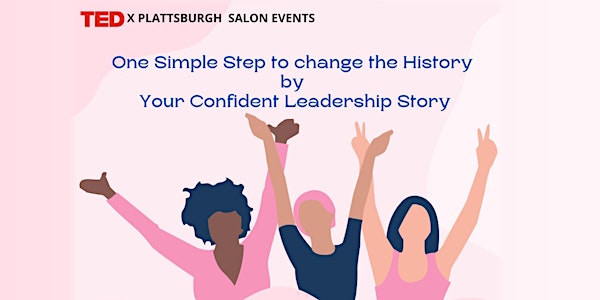 TEDxPlattsburgh - Change the History by Your Confident leadership Story
TEDxPlattsburgh Salon 3.0 Virtual Event - One Simple Step to change the History by Your Confident leadership Story
Refund Policy
Contact the organizer to request a refund.
Eventbrite's fee is nonrefundable.
About this event
TEDx Plattsburgh Salon 3.0 Virtual Event
One Simple Step to change the History by Your Confident leadership Story!
With 2 amazing Guest Speakers!
1) Dr. Sugi (Sugandika T Subawickrama) is originally from a beautiful island called Sri Lanka. She is a licensed psychotherapist in New York (LMHC) and New Jersey (LPC), a certified substance abuse clinician (Master CASAC) in New York and internationally, and is also an approved DWI assessor and clinical screener for impaired driving offenders in New York. She is a strategic leader and a motivational speaker as well. Dr. Sugi has worked in Behavior Health, Mental Health and Substance Abuse Counseling for over 20 years in various treatment settings. Her educational journey in Sri Lanka, India, the United Kingdom, and the United States helped her to learn coping strategies and leadership skills. She is a Six Sigma Black Belt and member of the American Counseling Association. Dr. Sugi's passion is to use her skills to help individuals recover and rebuild their lives from the devastation caused by traumatic events, such as war, natural disasters (Tsunami, Hurricane), recurring substance use, and maladaptive coping skills.
2) Tima Deryan is a Mindset Coach, Social Entrepreneur, Community Mobilizer, and a Mountain Climber. After becoming the 1st Lebanese woman and youngest Arab to summit Mount Everest at 26 years old, Tima quit her corporate career and started giving back to the world what the mountains gave her. She works with various organizations to equip children, youth, and women with the means to follow their passion, develop their leadership skills, and break barriers. In parallel, Tima campaigns on climate change, and social justice for a sustainable and balanced future.
The event is co-hosted by:
- Dr. Ayse Basak Cinar, Award Winner Coach 4 Leadership and Wellbeing/ Speaker/Sustainability, WES (Women Enterprise Scotland) Ambassador), supporting women in enterprise through leadership development and mindset growth`
- Stephane Bilodeau, Eng., PhD, FEC, Chief Technology Officer and Chairman of Smart Phases Inc., Lecturer at the Bioengineering Department of McGill University
Co-Founders of Women Entrepreneurs & Leaders Forum for Equitable and Inclusive Sustainability Inc.
One Simple Step to change the History by Your Confident leadership Story
We will take you on a time-machine and you will hear the story of a busy and stressed female leader in the 90s who wanted to do her best for her daughter and teammates, regardless of socio-economic and workplace challenges for women in the 90s.
We will question if the `overwhelm` story of this woman like the stories of many other women have been replaced by better stories in the 2022s. Be ready to be shocked!
We will explore why high levels of overwhelm and low levels of confidence among female professionals are not an emerging challenge of today – they are the `un-cured` ……. from the 90s, or even the 80s. All that highlights we need sustainable and proactive solutions, otherwise, we may get lost in the illusion of temporary solutions.
We will share unique research on MENTAL FITNESS by Shirzad Chamine and we will share insights on why this may be the most powerful sustainable and proactive solution to rise up women forever by equipping them with the powers to boost confidence and calm-mind in times of overwhelm.
Then we will share a success story of a female entrepreneur who has overcome the challenge of feeling stressed, overwhelmed, and `not good enough` by using mental fitness.
We will then hear about how a growth mindset can take you from the foggy shadows of very challenging life circumstances to the horizons of a new fulfilled life with success and happiness.
How about your story? You can rewrite or edit for the best version by asking questions to these two inspiring women and of course to us as well.
Our stories should no longer be written of overwhelm, stress, and ` not being good enough`. It is time to rise as a leader on your confidence and calm-mindedness through the power of your mental fitness.
Let`'s explore together!
Come and join us for these great exchanges!