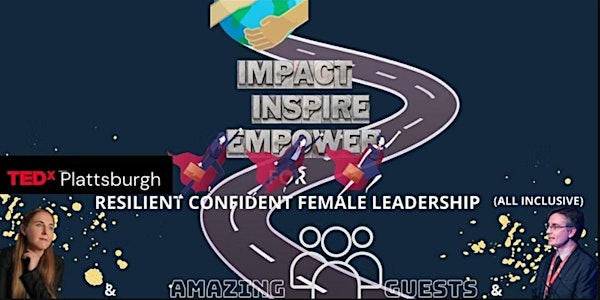 TEDxPlattsburgh Virtual Event 2022 Confident and Resilient Women Leadership
TEDxPlattsburgh Virtual Event 2022 - How to Become An Inclusive Confident and Resilient Female Leader?
Refund Policy
Contact the organizer to request a refund.
Eventbrite's fee is nonrefundable.
About this event
TEDx Plattsburgh 2022 Virtual Event
How to Become An Inclusive Confident and Resilient Female Leader?
**Breaking News! Join our Amazing Speakers:
- Meral Guzel, Partnerships Manager, Women's Entrepreneurship Accelerator at UN Women, New York
- Roshan Kindred, Chief Diversity Officer at PagerDuty, California
Do you think the world will be a better place if there are more women leaders?
Do you think that every woman is a leader?
Do you also think that these women leaders need to be more confident and resilient?
If you say YES, we have great news!
Women are natural `peace builders` as they are the central caretakers of families. According to research women have higher scores of EQ on the dimensions of self-awareness, interpersonal relationship, self-regard, and empathy with females scoring higher than males.
Besides these facts, women make up 13% of negotiators, 6% of mediators for peace, and only 30% of all leaders around the world are females.
Are we expecting these figures to increase soon or not?
1:2 women feel less confident and more stressed compared to the times before Covid-19. We also know from the research that women have higher levels of inner critics compared to men. All these may be called a perfect storm.
During this webinar, we will be covering:
- Resilient and Confident Leadership: Why now?
- How do you authentically show up?
- How can Resilient and Confident Female Entrepreneurs rise?
- It is all about Us -Female Leaders, Entrepreneurs, and Professionals-. It is all about Rebuilding the Resilient Future together
We have amazing two Guest Speakers, and we will announce them soon.
No matter you are looking for daily empowerment to boost your resilience and confidence, or you want to build a resilient strategy as an entrepreneur, or you want to elevate your team as a resilient and confident leader, this event will bring you new insights!
We want to hear from you about what you would love to see and hear about Resilient and Confident Female Leadership during these 3 unique events.
Co-Hosts:
Dr Ayse Basak Cinar, Award Winner Coach 4 Leadership and Wellbeing/ Speaker/Sustainability
Stephane Bilodeau, Eng., PhD, FEC, Chairman of Smart Phases Inc.
Co-Founders of Women Entrepreneurs & Leaders Forum for Equitable and Inclusive Sustainability
Come and join us for these great exchanges!