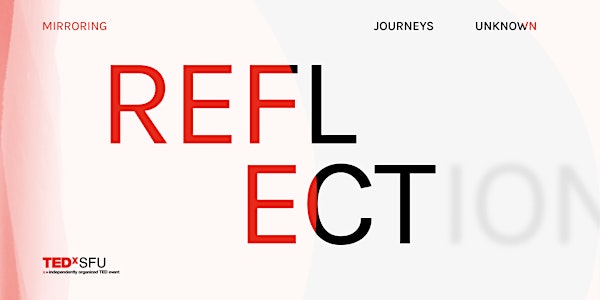 TEDxSFU 2022: Reflection
At TEDxSFU 2022, we challenge people to reflect on their journeys and the issues surrounding the world.
When and where
Location
SFU Goldcorp Centre for the Arts 149 West Hastings Street Vancouver, BC V6B 1H4 Canada
Refund Policy
Refunds up to 7 days before event
Eventbrite's fee is nonrefundable.
About this event
TEDxSFU's 12th annual conference will be taking place on November 5th at the SFU Goldcorp Centre for the Arts (149 W Hastings Street) from 10AM–4PM. The day will be jam-packed with entertainment from a diverse group of performers, energizers, and our TEDxSFU speakers! We are excited to have you join us so that we can reflect together!
Tickets will be on sale until Wednesday, October 20th, while spaces last.
About TEDxSFU 2022: Reflection
Reflection, by definition, refers to a "serious thought or consideration." This year, TEDxSFU challenges people who dare to reflect on their journeys and the issues surrounding the world. Our present realities have been shaped by the multi-faceted experiences we encounter in life. As we reflect deeply on our past choices, triumphs and struggles, these introspections can present opportunities to change the present and the future for good. We want to hear the innovative and empowering stories of reflection, along with what makes you unique and how your story can inspire others?
SPEAKERS:
Prerana Gambhir
Roshan Noronha
Anne Mok
Rebeka Breder
Precious Ile
Pamela Glatt
Paul Falkowski
Efe Fruci
For full bios and more conference info, please visit our website at http://tedxsfu.com.
CONFERENCE ITINERARY
9:00AM: Registration opens
10:00AM: Welcome & Session 1
11:00AM: Intermission
11:30AM: Session 2
12:30PM: Lunch break
2:00PM: Session 3
3:00PM: Prize Draw & Closing Remarks
3:30PM: Program ends
SEATING ARRANGEMENTS
On the day of the conference, seating arrangements will be on a first-come-first-serve basis. This means that you will be able to pick your seats on the day off when you arrive. The auditorium will open by 9:30 am for the audience to settle in.
Please note: TEDxSFU will be photographed and filmed. By purchasing a ticket, you consent to potentially be on camera as part of the audience, which may be visible in the video uploaded to the TEDx website and the TEDx YouTube channel.
Should you require information about accessibility, ticketing or have general questions about the event, please contact the team at events@tedxsfu.com.
ABOUT TED
TED is a nonprofit organization devoted to Ideas Worth Spreading, usually in the form of short, powerful talks (18 minutes or fewer) delivered by today's leading thinkers and doers. Many of these talks are given at TED's annual conference in Vancouver, British Columbia, and made available, free, on TED.com. TED speakers have included Bill Gates, Jane Goodall, Elizabeth Gilbert, Sir Richard Branson, Nandan Nilekani, Philippe Starck, Ngozi Okonjo-Iweala, Sal Khan and Daniel Kahneman.
ABOUT TEDx
In the spirit of ideas worth spreading, TEDx is a program of local, self-organized events that bring people together to share a TED-like experience. At a TEDx event, TED Talks video and live speakers combine to spark deep discussion and connection. These local, self-organized events are branded TEDx, where x = independently organized TED event. The TED Conference provides general guidance for the TEDx program, but individual TEDx events are self-organized.
ABOUT TEDxSFU
2022 marks TEDxSFU's 12th anniversary. Every year our conferences provide a platform for industry professionals, advocates, educators, and storytellers to showcase their ideas worth spreading. TEDxSFU continues to engage over 2,500 members in the Metro Vancouver area annually through community members conferences, dialogue sessions and after-party events. We're excited to gather a community of supporters who share similar desires to build community and spaces for storytelling, dialogue, and exploration of today's most intriguing and pressing topics.