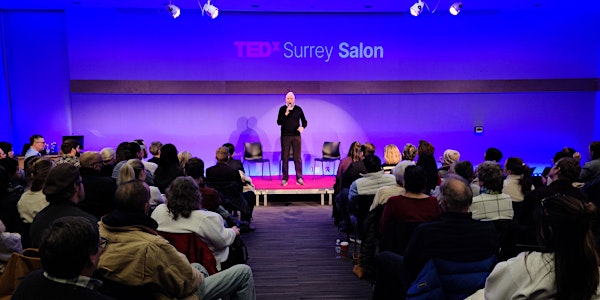 TEDxSurrey SALON | Humour for Health and Happiness
Learn to laugh your worries away! Join us for an evening of TEDx humour, punchy performances, and interactive fun.
Date and time
Wednesday, June 7 · 7 - 8:50pm PDT
Location
Semiahmoo House (UNITI) 15306 24 Ave Surrey, BC V4A 2J1 Canada
Refund Policy
Contact the organizer to request a refund.
Eventbrite's fee is nonrefundable.
About this event
NEW VENUE: UNITI in South Surrey, 15306 24 Ave, Surrey, BC V4A 2J1
Theme: "Humour for Health and Happiness"
Limited to 100 seats!
Doors at 6:30pm.
Created and produced by TEDxSurrey, this Salon event will be a unique evening during which 3 speakers will explore the potential of humour and uplifting human performance from different perspectives. The second half of the evening gives the opportunity for speakers to expand on their ideas and interact with the audience.
You'll also have the opportunity to meet the speakers during our intermission and after the event.
There will be a short break and some refreshments will be provided.
Our Speakers are:
David C. Jones is a multi-award-winning creative force, and an Audience Engagement Specialist who travels the world producing, presenting, and performing. His career includes work as a corporate comedian, keynote speaker, live theatre creator and filmmaker. He also likes to casually mention he was the Entertainment Manager of the 2010 Winter Olympics. As a young man David discovered he can make people laugh and when they are engaged, they were not enraged. We're lucky to have a speaker The Vancouver Sun called "one of the funniest minds in Vancouver" who dutifully adds "but not all the time".
Ellen Bradley-Cheung is a multi-talented individual with a unique perspective on life. She's a comedian, yogi, mother, and counsellor, who has explored different paths to emotional and spiritual wellness. As a person in long-term recovery, Ellen brings her life experiences to the stage and uses humor to shed light on addiction and mental health struggles with the intent of giving others hope. Ellen loves to perform with her comedy friends in White Rock and Surrey, you might know them as Hilarapy and Addictive Comedy. No topic is off-limits. Her dream is to have a sketch comedy show one day that talks about all subjects, big and small. So yeah, Ellen believes in dreaming big.
Dan Dumsha has been working as a corporate facilitator, executive coach, and performer and teacher of improv in Vancouver for 15 years. Falling in love with improv, Dan trained with and then joined the main casts of QueerProv, the Fictionals, and Vancouver TheatreSports League. On a sabbatical in 2015, Dan founded the Dirty Little Secrets Improv show in New York City, which still runs monthly in the East Village. Dan serves as the President of the Queer Improv Society of Vancouver, running the famous weekly QueerProv show in Vancouver's west end. In 2019, Dan helped to start Tightrope Theatre and continues to work as the Director of Improv for Work & Wellness. He's passionate about improv's unique ability to bring people into the moment to discover the connective power of presence and co-creation.
Are you a TED enthusiast who finds joy in watching and learning from TED videos? Do you appreciate being in the company of thinkers, creators, doers, and makers? Are you interested in deepening your understanding of important ideas that can shift your thinking and, perhaps, add a new practice or perspective in your life?
If so, you need to come to a TEDxSurrey Salon event.
Salons focus on one theme, rather than the variety of different ideas that are presented at a regular TEDx event. A Salon lasts for approximately 2 hours and theme is explored in-depth by three different speakers with expertise in that area. There is plenty of opportunity for audience participation.
Over the past year we have held three TEDxSurrey Salons and that were very well-received. Audience members loved the intimacy of the event and the opportunity to engage with the speakers. People enjoy listening to different perspectives on the same theme. Conversations that were started at the break with other audience members are often continued later through email or personal contact.
There is always such a buzz after each event that we have a challenge in asking people to leave because they are so involved in discussion with speakers or other Salon attendees.
Salons spark our imaginations and keep us abreast of important ideas that need to be explored. They are stimulating, inspiring and fun.
If you are a TED enthusiast, waiting a whole year to attend the next TEDxSurrey flagship event is far too long. The Salons offer a satisfying TEDxSurrey meal as you wait for the annual full TEDxSurrey buffet!