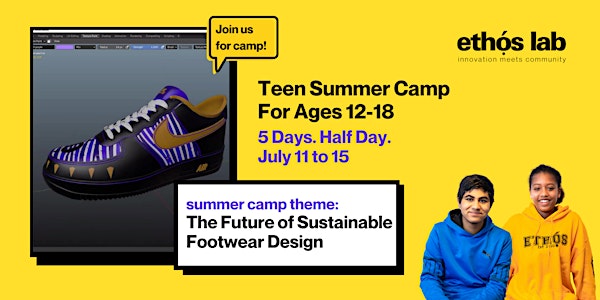 Teen Summer Camp Sustainable Footwear Design with Ethos Lab July 11-15
Location
Ethọ́s Lab Location
177 e 3rd Ave
Vancouver, BC V5T 3B8
Canada
5 Day Summer Camp Sustainable Footwear Design with Ethos Lab July 11 to 15
About this event
Sustainable Footwear Design Summer Camp with Ethos Lab
July 11 to 15 - 5 Days, Half Day
For Ages: 12-18
Times: 9:00 AM-1:30 PM
Drop Off: At 8:45 am
Learn the ins and outs of sustainable fashion in this workshop where we will upcycle sneakers and use 3D printing to develop new sneaker creations. We will have speakers come in throughout the workshop to talk about the fashion industry and sustainable fashion. Participants will be exploring the future of sustainable sneaker design leveraging 3D modelling and printing to create intricate designs. This workshop will have a focus on upcycling, circular design and sustainability.
Location: In-Person. 177 E 3rd Ave., Vancouver, BC.
Cost: $175 +tax
Facilitator: Will Selviz, Ethos Lab
What To Bring: Water, Lunch, small snacks will be provided. Laptop. A pair of sneakers you would like to alter.
** a limited number of spare laptops are available onsite. Please email us if you will require one.
Join us for a solar punk themed summer! Where we explore, challenge, and create within the context of sustainability, human impact on the environment, and climate change. How to be responsible thinkers, designers, and builders for a better tomorrow.
About Will Selviz
Will is the steward of our MetaVerse environment Atlanthos and Ethọ́s Lab's digital experiences. New to the crew Will Selviz is an Afro-Caribbean multidisciplinary designer, who specializes in immersive media technologies including 3D animation, virtual reality (VR), augmented reality (AR), and 360 video.
After graduating from OCAD University's Digital Futures program, he founded RENDRD Media, whose past clients include Nike, NBA, Aritzia, Microsoft, and Universal Music. Will's commitment to making innovation in creative industries more accessible to his community led him to mentor and educated through his non-profit organization, RENDRD Foundation.