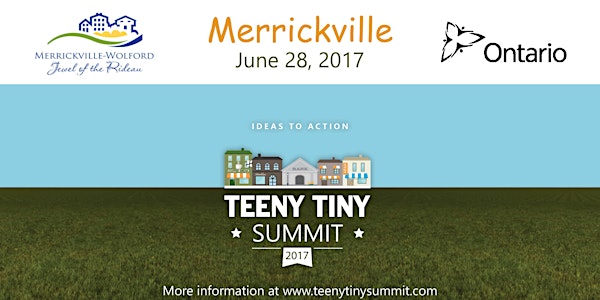 Teeny Tiny Summit - June 28, 2017 - Merrickville ON
Location
Merrickville Community Centre
106 Read Street
Merrickville, ON K0G 1N0
Canada
Description
If you would still like to attend but do not have a ticket, please arrive early to purchase a walk-in ticket. The cost is $40 and payment is cash-only. Registration will open at 8 am.
This event is for anyone actively engaged in making a difference in their small community. Community volunteers, municipal staff and politicians, and support organizations are all welcome to attend. The day will be a mix of inspiration and rolling-up-our-sleeves problem solving.
Program outline:
In the morning, hear from world-renowned community development expert Peter Kenyon, as well as local experts who are working on various challenges that face small communities.
Enjoy a locally-sourced lunch, followed by an afternoon workshop where participants will divide themselves into groups to discuss solutions and next steps to deal with topics that are common to many small places.
These topics are:
Municipal-volunteer relationships

Risk Management/insurance for community groups

Small village servicing (water and wastewater)

Big Data for Small Places

Strategic planning for small places/community groups

Finding your story and telling it
We are excited for the day and look forward to seeing you there!