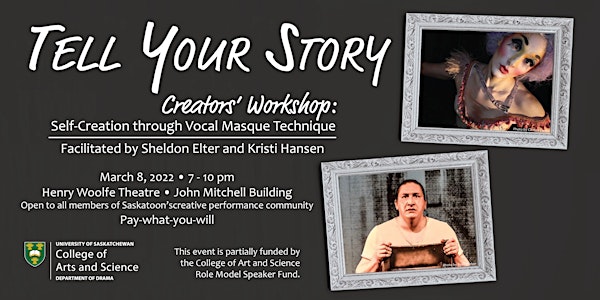 Tell Your Story: Self Creation through Vocal Masque Technique
Explore vocal masque technique with theatre artists Sheldon Elter and Kristi Hansen at this pay-what-you-will workshop!
When and where
Location
John Mitchell Building 118 Science Place Saskatoon, SK S7N 5E2 Canada
About this event
Want to write a play but you're not "a writer"? Creating theatre isn't a one size fits all model. There are many ways to create work and to explore the content and characters of your play without sitting down and writing it all out beforehand. This workshop focuses on the performance and creation style of vocal masque in which each actor plays multiple characters in rapid succession as a one-person performance. Instead of narrating, the actor becomes each character and performs dialogue by themselves. In this workshop we will be specifically exploring characters' bodies and voices as well as improvising dialogue to help work towards a solo vocal masque scene.
This event is partially funded by the College of Art and Science Role Model Speaker Fund.
Date: March 8, 2022
Time: 7-10pm
Location: Henry Wolfe Theatre, Rm 161 John Mitchell Building, University of Saskatchewan Campus.
Pay-What-You-Can. Cash and credit accepted at the door. We gratefully accept donations but please don't let money be a barrier!
Please Note: This is an in-person workshop. In accordance with University of Saskatchewan Pandemic Response Guidelines, all participants must wear 3-ply disposable masks to attend.
For location and Parking information please visit: https://artsandscience.usask.ca/drama/greystone/location-and-parking.php
For more Information: shannon.blanchet@usask.ca
About the Artists:
Kristi Hansen is a disabled theatre artist from Saskatoon who has been working out of Edmonton for the past 22 years. Kristi trained as an actor at Grant MacEwan's Theatre Arts Program from 1999-2001, and then at the University of Alberta's Bachelor of Fine Arts Acting Program from 2001-2004. Kristi is the co-founder and co-Artistic Director of The Maggie Tree and the former co-Artistic Producer of Azimuth Theatre in Edmonton, AB.
Acting credits include Dear Rita (Confed Centre); Candide (Edmonton Opera); The Silver Arrow, A Christmas Carol, and Alice Through the Looking Glass (Citadel Theatre); The Invisible: Agents of Ungentlemanly Warfare (Catalyst Theatre); Mr. Burns: a post-electric Play (You are Here Theatre/Blarney Productions); The Bad Seed, The Jazz Mother, Pith!, The Scent of Compulsion, and The Ambassador's Wives (Teatro la Quindicina); The Hollow (Vertigo Theatre); Small Mouth Sounds, 10 out of 12, and Passion Play (Wild Side Productions); Irma Voth (Theatre Network); Christina/Philippe (Northern Light Theatre); The Sound of Music (National Arts Centre); Comedy of Errors, Hamlet, A Midsummer Night's Dream, King Lear, Romeo and Juliet, and Love's Labour's Lost (Freewill Players); The Snow Queen and Apocalypse Prairie (Azimuth Theatre); The Supine Cobbler, Monstrosities, Age of Arousal, Hroses: An Affront to Reason, and Hunger Striking (The Maggie Tree); Folie à Deux, (The Maggie Tree/Blarney Productions). Her one-person show, Woody, explores the themes of privilege and disability in a reflection of her life as a disabled human living in North America in contrast with other amputees (real and imagined) around the world.
Sheldon Elter is a Métis actor, writer, stand-up comic, and musician originally from Northern Alberta.
Theatre credits include: Métis Mutt (One Little Indian Productions), All That Binds Us (Azimuth Theatre), The Ministry of Grace (Belfry Theatre), Eday (Serial Collective), After The Fire and BEARS (Punctuate! Theatre), Nevermore (Catalyst Theatre), Merchant of Venice, Twelfth Night, King Lear, A Midsummer Night's Dream, Romeo and Juliet, Love's Labour's Lost, The Winter's Tale, and Two Gentleman of Verona (Freewill Players), The Comedy Company (Shadow Theatre), Crazy For You (Citadel Theatre/Theatre Calgary), Dear Rita and Tales from the Red Dirt Road (Confederation Centre of the Arts), Evangeline (Confederation Centre of the Arts/Citadel Theatre), The Fiancée, The Garneau Block, A Christmas Carol, Alice Through The Looking Glass, and One Man Two Guvnors (Citadel Theatre), Tartuffe, Sound of Music, and Enron (National Arts Centre). Sheldon was a Top 14 finalist on Canadian Idol in 2006. TV credits: Hank Williams' First Nation, CAUTION: May Contain Nuts (Gemini, and Canadian Comedy nominated writer) and Delmer and Marta (APTN).