Temenos Toronto – A Workshop for Authentic Connection and Personal Growth

Saturday, 8 June 2013 at 9:00 AM

-

Sunday, 9 June 2013 at 4:00 PM (EDT)
Event Details
UPDATE
This workshop is postponed to the Fall since it is too close to Agile Coach Camp (which is the following weekend).  If you want to be notifed of the next workshop, please let me know by email: 

michael.sahota AT agilitrix.com
-------------
Temenos is an experiential workshop for people interested in personal growth so that they can enjoy authentic connection with others.
The endless curiosity and passion we're born with gets dampened when we meet the limits of the context we grow up in. This can hurt, and deviate us from our path of growth. Attending a Temenos can help you clarify for yourself:
Who you are

Who you can and want to be

What you want

A strategy for your success.
What Happens in a  Temenos Workshop?
Here is an overview diagram of Influence Maps - the main technique that we will be using.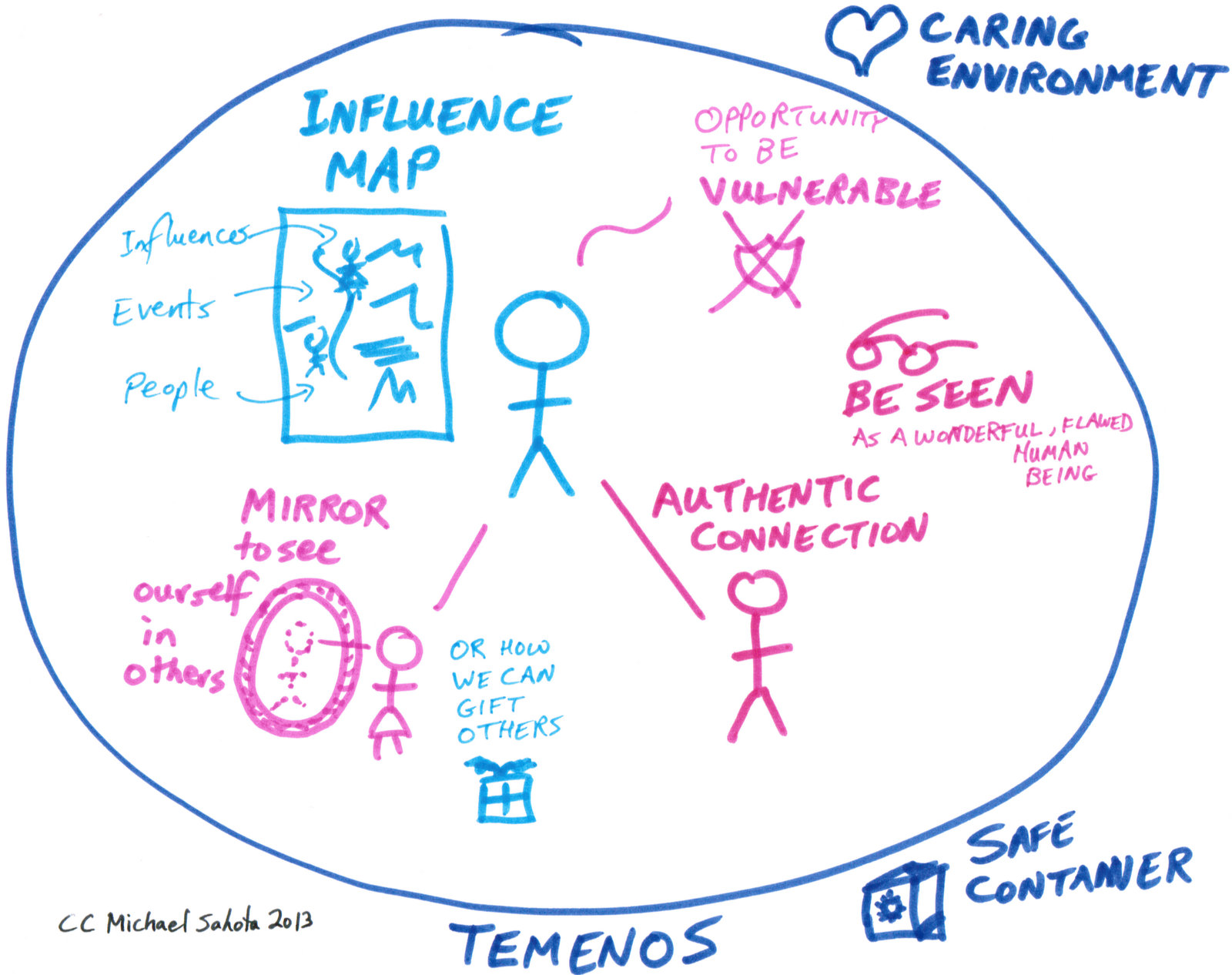 The Temenos worskhop is a safe place where we can be our authentic selves without judgement. We used Influence Maps to explain who we are and allow ourselves to be truly seen as a unique valuable human being. It is through our vulnerability that we are able to create authentic connections with others. See Brene Brown talk on the power of vulnerability. 
Please refer to these pages for detailed information:
What material will we cover?
The focus of this workshop will be on authentic connection with other human beings in a safe environment. Normally Temenos is run as a full 3 day off-site workshop. In this version we will drop other Temenos modules such as vision and group alignment.
Testimonials
"Inspiring, Healing, Present. Michael's presence facilitates the creation of a strong container to support making the connection from the heart, not the mind. The influence map is a powerful tool for building connection." – An Agile Coach
"Moving, Revealing, Balancing. I found that deep connections to other human beings can be found and made a lot more often than I expected. A safe space was created and held all the way through it." – Melanie Meinen
Payment Options
There are two payment options:
Pay for Value. In this case, I ask you to decide at the end of the workshop how much it was worth to you and pay me accordingly. 
Pay for What you can afford. This is intended for people who are between jobs or in a situation where they can't afford to pay. In this case, I ask you to pay what amount you can afford. As with pay for Value, I ask you to determine what you can afford after the workshop.
N.B. In either payment option, I ask you to pay a nominal amount since space is limited and I want to make sure you are committed to coming.
Location and Timing
The event will be held in a private residence. Lunch will be provided on both days. The workshop times are:
Saturday 8:30am Registration with 9:00am start to 5:00pm
Sunday 9:30am start to 4:00pm
Questions?
 Any questions? Feel free to email (michael.sahota AT agilitrix.com) me or call me (416.999.3297).
About Michael Sahota
I help organizations get great results and delighted customers by creating work environments that support passion and joy. As an influencer, one aspect of my role is to facilitate people and companies to find their better selves. For the last two years I have been on a personal journey of learning and growth. I am running this workshop to help others who are interested in connecting with their true self for personal gain as well as to help those around them. I have been on a tremendous journey of self-growth these last two years and want to help others on their own journeys.
Origins of Temenos
Temenos is the name of a special kind of experiential laboratory (usually delivered as a weekend lab) that Siraj Sirajuddin has invented and evolved over many years integrating diverse influences such as Buddhist, Islamic, Jesuit and Hindu spirituality, mythology and Jungian psychology. He's been using these labs to support lean and agile transformations in his practice as an Organisational Transformation Mentor.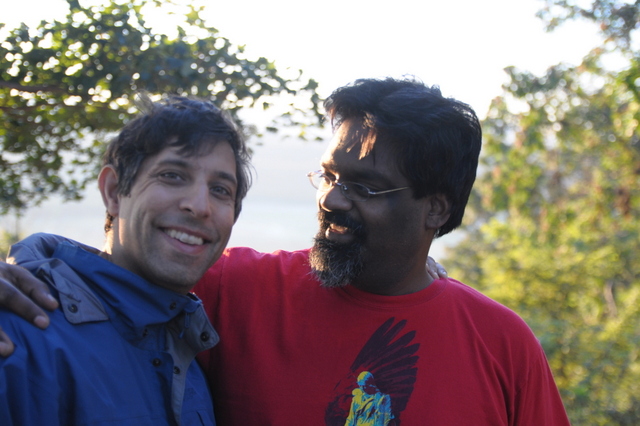 Picture of Michael with Siraj at a Temenos retreat in 2012.
When & Where

Residential Location

Toronto, ON M5P 1H3
Canada

Saturday, 8 June 2013 at 9:00 AM

-

Sunday, 9 June 2013 at 4:00 PM (EDT)
Add to my calendar
Organizer
Michael K Sahota is a Speaker, Trainer, & Consultant on Evolutionary Capabilities (Culture, Leadership, Change). Michael teaches his proven framework for developing Business Agility through his highly accoladedCertified Agile Leadership (CAL 1 & 2) Training worldwide with 30% of graduates with the Scrum Alliance.
Michael is the founder and CEO of SHIFT314 Inc - a boutique training and consulting organization that specializes in the organizational culture and leadership shifts needed to unlock success with Agile, Digital, Lean, etc... His model for The Evolution of High Performance guides the creation of a cultural and leadership context where Agile drives lasting organizational results.
Michael Sahota guides and teaches leaders how to create high-performance organizations. He in the creator of a proven system for leading change through a practical playbook. His model for Consciously Approaching Agile guides the creation of a cultural and leadership context where Agile drives lasting organizational results.
Since 2001, Michael has been guiding success with Agile. As a thought leader, in 2012, he published the ground-breaking book "An Agile Adoption and Transformation Survival Guide: Working with Organizational Culture". In 2018, he published "Emotional Science: The Key to High Performance". Michael is working on his upcoming book on Evolutionary Change. His vision is to support the evolution of leadership capabilities that can create change and impact on a global scale.