Temenos Toronto – Workshop for Leadership, Trust and Authentic Connection

Saturday, 9 November 2013 at 9:00 AM

-

Sunday, 10 November 2013 at 5:00 PM (EST)
Event Details
Temenos is an experiential workshop to develop leadership and trust through authentic connection and personal development.
This is very suitable for those working in or fostering an Agile culture to improve communication and collaboration. Temenos helps turn the "people knob" to "11".
Benefits
Learn skills and practices that help you get more out of your professional and personal relationships. Build deep connections and increase trust. Understand yourself better.
What Happens in a  Temenos Workshop?
The first step is for participants to share stories about who they are. Each person creates an Influence Map: a visual representation of their major life events and influences that have shaped them to be who they are. These provide focus and depth to the stories. The process of telling our story and listening to others helps us develop a greater awareness of who we are and how we relate to the world. Awareness of our own patterns makes it easier for us to connect with others and build trust. See the infographic below illustrating the key elements of the influence map process.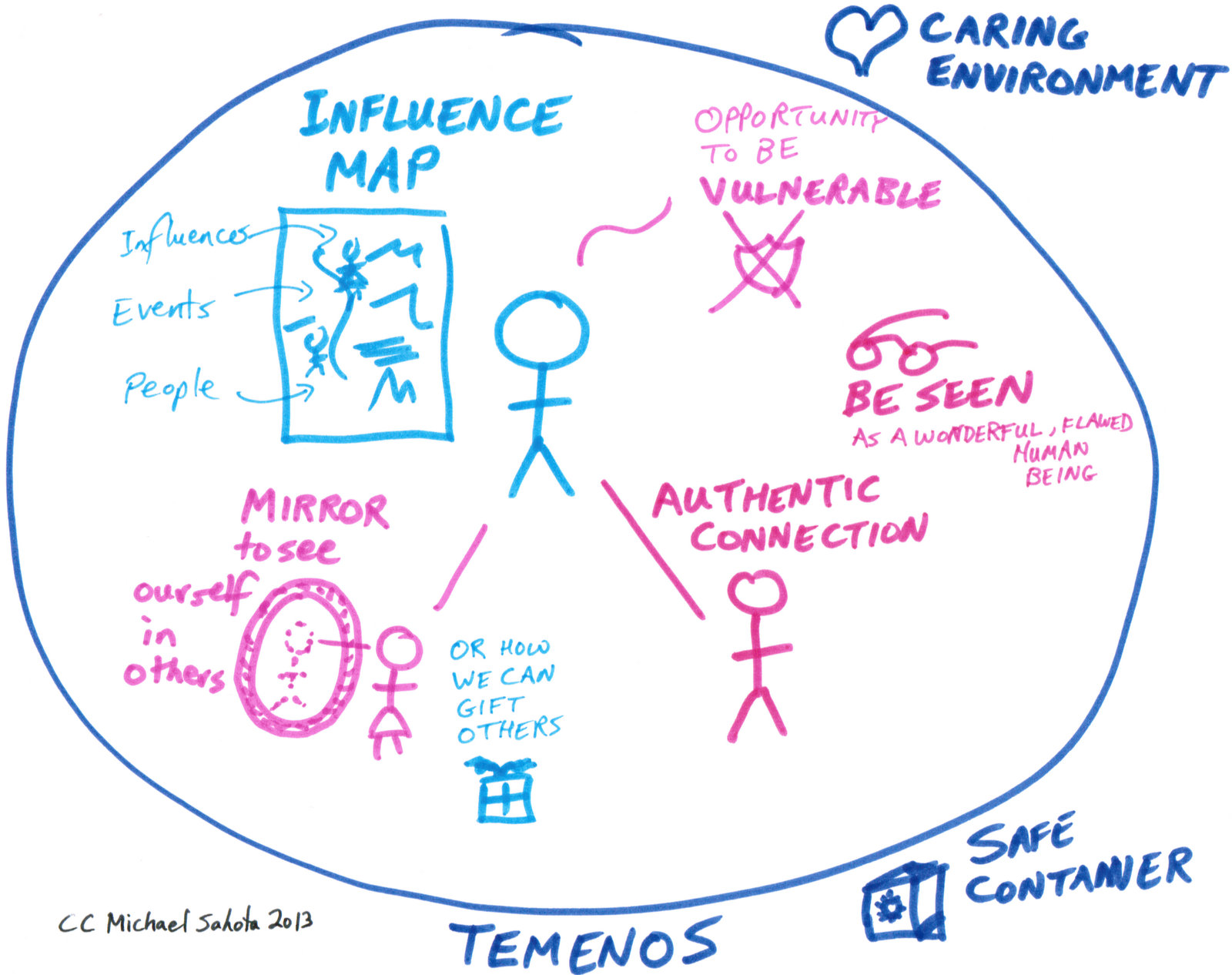 The Clean Slate process is used to clear emotional charges from past workplace events that can block connection and growth. Think of a blackboard covered with writing (the past) – we need to erase or clean it so there is space for something new. We use Clean Slate with systems as well as individual relationships.
Healthy relationships require care and attention. For key relationships, we identify what our vision for that relationship. We also identify our success and sabotage strategies as well as what we can do to enhance or mitigate them. Finally, thought is given to how we enter and exit those systems.
Please refer to these pages for additional information:
What material will we cover?
The topics covered in the course will be: influence maps, clean slate, strategies and a special kind of feedback that doesn't hurt.
Testimonials
"Insightful, Challenging, Eye-opening. I liked the setting, people, energy and the format. You guys did a fantastic job." – Josh Chapelle, Director Development
"Inspiring, Healing, Present. Michael's presence facilitates the creation of a strong container to support making the connection from the heart, not the mind. The influence map is a powerful tool for building connection." – An Agile Coach
"Moving, Revealing, Balancing. I found that deep connections to other human beings can be found and made a lot more often than I expected. A safe space was created and held all the way through it." – Melanie Meinen
Payment Options
This workshop is delivered under the Pay for Value model. I ask you to pay $100 to reserve your place and to decide at the end of the workshop how much it was worth to you and pay me accordingly. If you would rather pay a set amount in advance for personal reasons or due to purchase approval reasons, this is also possible - just send me an email.
Location and Timing
The event will be held in a private residence. Lunch will be provided on both days. The workshop times are:
Saturday & Sunday 9:00am start to 5:00pm (8:30am registration Sat).
Questions?
 Any questions? Feel free to email (michael.sahota AT agilitrix.com) me or call me (416.999.3297).
About Michael Sahota
I have worked with Agile (human-centered software practices) for over 10 years and help organizations get great results by creating human-centred teams and organizations. Most of my time is spent working with people and teams to help them grow. I have attended several Temenos workshops as a participant and faclitated two workshops. I have found Temenos to be instrumental in my own joureny of professional and personal growth and want to share this with others.
Origins of Temenos
Temenos is the name of a special kind of experiential laboratory (usually delivered as a weekend lab) that Siraj Sirajuddin has invented and evolved over many years integrating diverse influences. He's been using these labs to support lean and agile transformations in his practice as an Organisational Transformation Mentor.
Attendee List
Sort by:

Date

|

First Name

|

Last Name
When & Where

Residential Location

Toronto, ON M5P 1H3
Canada

Saturday, 9 November 2013 at 9:00 AM

-

Sunday, 10 November 2013 at 5:00 PM (EST)
Add to my calendar
Organizer
Michael K Sahota guides and teaches leaders how to create high-performance organizations. He in the creator of a proven system for leading change through a practical playbook. His model for Consciously Approaching Agile guides the creation of a cultural and leadership context where Agile drives lasting organizational results.
As a Certified Agile Leadership (CAL) Educator with the Scrum Alliance, Michael teaches on a worldwide basis. His highly accoladed Certified Agile Leadership (CAL 1 & 2) Trainings reflects his growth and capability as a leader. He has been traveling to India for the past 4 years in an intense study of personal growth and transformation for his own leadership path. He practices and models what he teaches to create transformative experiences. His upcoming trainings at http://certifiedagileleaders.com
Since 2001, Michael has been guiding success with Agile. Since 2010, he has held his Certified Enterprise Coach (CEC) designation. In 2012, he published the ground-breaking book "An Agile Adoption and Transformation Survival Guide: Working with Organizational Culture". Michael has two books that are to be published this year: Emotional Science and Agile Leadership.