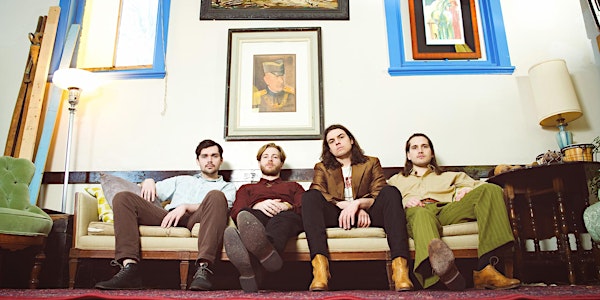 Performers
Ten Minute Detour
King Cardiac
Location
Mills Hardware
95 King Street East
Hamilton, ON L8N1A9
Canada
Ten Minute Detour — Live at Mills Hardware!
About this event
ARTIST PRESALE STARTS MAR 30 @ 12PM
PUBLIC ONSALE STARTS APRIL 1 @ 10AM
Brought together by the winds of change (and a few classified ads), Ten Minute Detour cut their teeth in a small, detached, heatless garage in Calgary, Alberta, where they set in place the foundation for Lay It Down, the band's debut full-length album. Highlights from Lay It down include "Four Papers" and "Getaway", two catchy alternative rock tracks which have helped pave the road for the band, who have played hundreds of shows across Canada. In the winter of 2017, Ten Minute Detour recorded their second album in Nashville, Tennessee, teaming up with producer and former Cage the Elephant guitarist Lincoln Parish. Their sophomore album Common Pleasure, whose seven tracks were recorded over a harrowing seven days, is a testament to the band's maturation and growth in songwriting and storytelling, shedding the garage-rock skin and donning a more expansive, gripping, sophisticated sound. 2018 was a year of change for Ten Minute Detour, seeing the release of their sophomore album, several lineup changes, and relocation from their prairie home to Southern Ontario. Pause for one global pandemic… and Ten Minute Detour is ready to continue their journey where theyleft off. Their exciting new record, set for release Spring 2022, is an exploration into more powerful, thoughtful, and creative songwriting. Venturing further and further from their garage rock roots, the album breathes an Americana folk essence, while brandishing the energy of a band in full stride. In support of their new LP, TMD will once again take to the road in 2022, playing stages across Canada.
Instagram | Facebook | Twitter | Spotify | Apple Music
•
King Cardiac sees frontman Gabriel DeSantis and members of Toronto's Heavyweights Brass Band (Paul Metcalfe, Tom Richards, Lowell Whitty), bassist Sam Petite and Alan Zemaitis on keys, exploring matters of the heart through heavy soul and brooding R&B. The band's debut album Bloodlines was recorded and co-produced by Don Kerr and is due out in 2022.