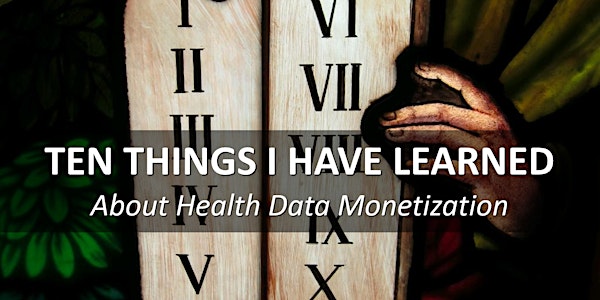 Ten Things I Have Learned About Health Data Monetization
This webinar reflects on experiences and lessons from the commercialization of health data
About this event
Based on more than a decade working with commercial and public sector organizations enabling secondary access to health data, this webinar by Khaled El Emam reflects on experiences with the monetization of health data. This is a controversial topic because it means that someone is potentially profiting from personal health information. But the reality is much more complex than that. There are many secondary uses of data that are very beneficial to the data subjects as well, directly and indirectly.
In any case, there are ways to enable the secondary uses of data under multiple economic models, ranging from cost recovery to maximizing margins, depending on the objectives of the organization. This must be done responsibly and transparently. But also some of these models do not work well or are very challenging to operationalize in practice, and some data are more valuable than other data.
Join Khaled El Emam in this webinar where he will provide his perspectives and lessons learned on this topic, and how leading organizations have been able to create economic and societal value from their health data.
This is intended to be a broad based seminar of relevance to privacy officers, privacy lawyers, regulators, policy makers, and technology developers.
** NOTE: Registrants will receive the details on how to join this webinar by email two days before the event. Please make sure that you whitelist this address: info@replica-analytics.com. **