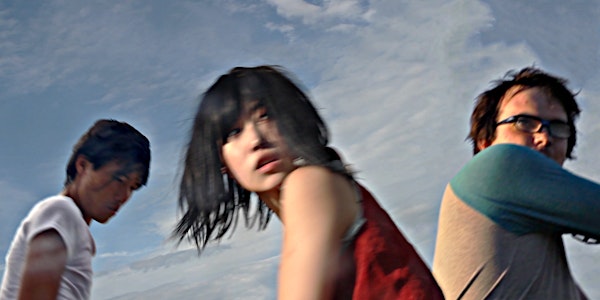 Terry Chiu's OPEN DOOM CRESCENDO Presented by K-FAB + WTFILM FEST
Join us for the Toronto premiere of "Open Doom Crescendo", a poetic post-apocalyptic existential extravaganza feat. director Terry Chiu IRL!
When and where
Location
Paradise Theatre 1006c Bloor Street West Toronto, ON M6H 1M2 Canada
Refund Policy
Contact the organizer to request a refund.
Eventbrite's fee is nonrefundable.
About this event
K-Fab in association with filmmaker Ethan Eng (Therapy Dogs) and veteran film curator Peter Kuplowsky (TIFF Midnight Madness / WTFILM Fest) are proud to present a special screening of Open Doom Crescendo, a poetic post-apocalyptic existential extravaganza from writer/director and aesthetic anarchist Terry Chiu (Mangoshake).
Set in a desolate wasteland, two super-powered souls, KeiKei (Xinkun Dai) and Rev (Terry Chiu), fight for the absolution of their existential pain via the search for a prophesied and quite literal Embodiment of Angst. Forging an alliance with an enigmatic man who roams the wasteland within a giant mobile cardboard boombox, their search for answers collides them with a barrage of weird and wicked gangs, each one personifying a conflicting school philosophy. All the while, the most hideous being in the universe subsumes his desire for intimacy with a corrupting nihilism that threatens to swallow all the players on this peculiar plain of existence.
Self-consciously indebted to Hideaki Anno's Neon Genesis Evangelion, Chiu adapts the aesthetics of anime action in tandem with Anno's angsty tendencies onto a decidedly lo-fi canvas. And propelled by Chiu's densely ratatat dialogue, subtitled in both English and Simplified Chinese, the film viscerally crescendos from climax to climax in an episodic parade of striking compositions and madcap setpieces that are as infectiously hysterical as they are disarmingly profound.
"No one else is doing what Terry Chiu is doing. He's deep into some digital mindscape that begs for new language to describe it." - Kai Perrignon, Static Vision
Sunday, December 11th | 6:30pm (w/ intermission) | Runtime: TBC | $15
English language, subtitled in English and Traditional Chinese.
K-Fab is supported by Istic Illic Pictures
Film provided courtesy of filmmaker Terry Chiu