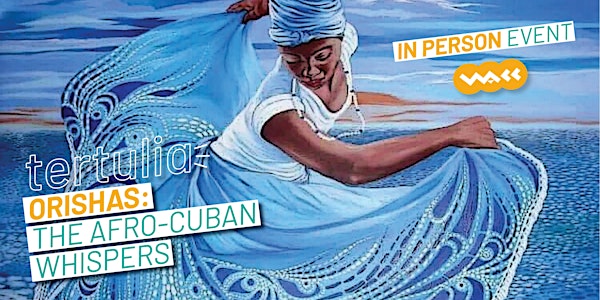 Tertulia: Orishas, The Afro-Cuban Whispers
A colorful night to connect with the ancestors!
When and where
Location
Britannia Community Centre 1661 Napier Street Vancouver, BC V5L 3X1 Canada
About this event
Join us on Friday, September 23 at 6:30 pm (PT) at AML – Seniors Centre (Britannia Community Centre) to immerse yourself into the Afro-Cuban culture identity. Hebert Poll Gutiérrez is a Cuban storyteller, author, playwright, and poet with 16 years of experience. Rodolfo Ortega, a Mexican filmmaker, and TV producer with more than 30 years of experience, and the Mexican actress, producer, and playwright, Anna Salas,  will guide us in a conversation about the history of the Cuban ancestors.
The program for the night will include the projection of the short film Emí Laará: little stories to dream, based on the book by Gladys Felicia Gutiérrez Rodríguez and Hebert Poll Gutiérrez, music by Afro-Cuban percussionist Israel (Toto) Berriel and more.
*** Special guests will be announced close to the event.***
This event is an invitation to discover the richness of Cuban culture through literature, film, dance, and music. We'll be providing space to share comments and, of course, ask questions!
--
Hebert Poll Gutierrez is a Cuban Canadian author, storyteller, poet, and playwright artist with 16years of experience, always trying to connect with the world through art. He believes in the power of stories and theater to shape realities. Art is his strategy to defend his triple cultural identity: His identity as an artist, a Cuban, and Afro-descendant. Hebert has published 9 books, the latest of which is a poetry collection: "Whispers from the Black Gods." (The Elite Lizzard Publishing Company, Canada, 2022) Some of his writings appear in magazines and in more than 20 anthologies from Cuba, Venezuela, Canada, Spain, the United States, Mexico, Germany, and other countries. His theater scripts have been represented by companies from Latin America, Europe, and Canada.
He is a member of several cultural organizations in Canada. Among them, we can mention SpanicArts Calgary, Playwrights Guild of Canada. ICAI (Immigrant Council for Arts Innovation), FAVA (Film and Video Arts Society Alberta), Alberta Media Arts Alliance Society (AMAAS).
He was named Calgary's Artist of the Month in December 2021 by the Immigrant Council for Arts Innovation (ICAI).
Rodolfo Ortega Arnaiz is a video director and producer strongly dedicated to Performing Arts. 
For the last 20 years, he is usually appointed by National and independent Artistic Companies in Mexico for significant projects. He promoted screening dance galas and symphonic concerts in movie theatres. Over a thousand of his theatre, dance, symphony and opera videos have been screened internationally.
Although he has one foot firmly in the fine arts world, he likes to explore new languages when "telling" them to new audiences. In 2020 and 2021, he produced the top " pandemic videos for Opera de Bellas Artes the top "pandemic videos", which got more views than all other National companies together!