| | |
| --- | --- |
| Tetanus Comedy LIVE @ the Firkin on Danforth | |
Event Details

Tetanus Comedy presents a bi-weekly comedy show at The Firkin on Danforth. Join us in the east end community as we showcase Toronto's stand-up talents in an intimate dining room setting, and a fun way to spend a Sunday evening. The show runs from 7:30-8:30 pm with doors opening at 7pm.
December & January Show Date Schedule:
Sunday, December 22nd, 2019
Sunday, January 5th, 2020
Sunday, January 19th, 2020
Sunday, Feburary 16th, 2020
Sunday, March 1st, 2020
Sunday, March 15th, 2020
Sunday, March 29th, 2020
Your $20 ticket will include:

A one hour comedy show with three featured comedians
A complimentary drink token given upon arrival which can be cashed in at the bar for your choice of a domestic pint, 1oz bar rail mixed drink, OR a 6 oz glass of house wine. You get to choose!
Half priced nachos ($6)

A raffle ticket for the end of show wine draw

Tetanus Comedy is offering an alternative comedy show setting that tailors to our audience. We believe you shouldn't feel hostage at a lengthy show with a long list of comedians that results in major after show stretching! Tetanus Comedy's Sunday at the Firkin on Danforth dinner show will focus on three talented comics and allow the opportunity for the audience to engage in their best material.

We want everyone to come out for some Sunday Funday live entertainment where we provide some fantastic local talent for an hour of your time so you can also spend some time catching up afterward with your date, friends or family, and enjoy the rest of the night at your own pace, at a great place.
Your Janurary 19th Line up is out!
Jared Mitchell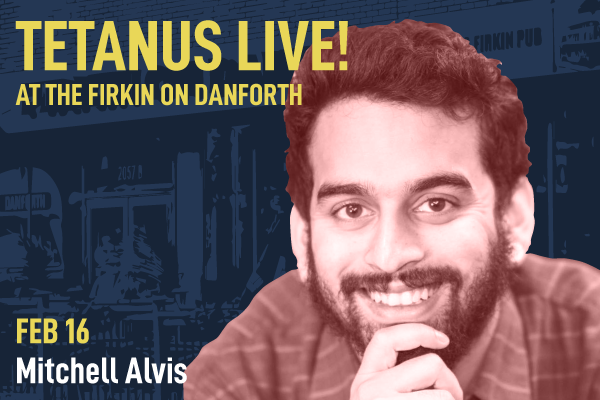 We open our show with a man who makes talking your ear off fun! Able to leap into tall convsersation in a single bound, come out and see Toronto's own Mitchell Alvis.
You can catch him at Tetanus LIVE! at The Fikrin on Danforth on Feb 16.
Dave Luca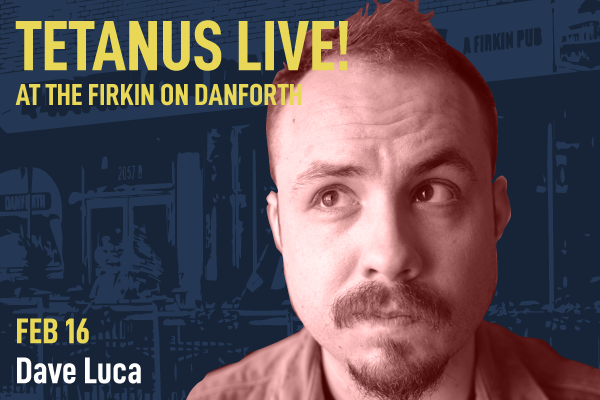 Let's hear it for the man behind the camera. Your feature act is always a delight to watch and never does the same act twice. You never know with Dave Luca.
 See his debut on Tetanus LIVE! at The Firkin on Danforth on Feb 16.
Justin Sanchez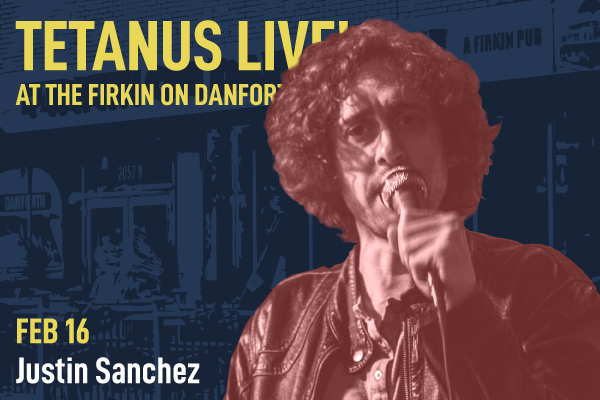 HE'S BACK! It's time for some more good ol' Justin Sanchez. Danforth is going to make this guy a star with his irrate interactions with the museum going public, his stories that rival 'Up In Smoke' and you may even get a musical act out of the old renaissance man! Get ou to see your headliner again: Justin Sanchez!
If you missed him the first time, he will be at Tetanus LIVE! at The Firkin on Danforth on Feb 16.
Our venue partner: The Firkin on Danforth offers a cozy English style pub atmosphere with a massive central bar, intimate candle lit dining room area, and a snug corner with couches and more relaxed seating. The bar is tended by veteran bar and serving staff who help make your overall experience. The Firkin also offers a large, well priced menu with something to fulfill anyone's craving of the night and not to mention, one hell of a ceasar!

To stay updated (with show dates, comic bios, other shows) and become part of the Tetanus Comedy family, follow us on social media @tetanuscomedy and check out our mecca @ www.tetanuscomedy.live
When & Where

Firkin on Danforth
2057B Danforth Avenue
Toronto, ON M4C 1J6
Canada

Organizer
Toronto eastend comedy producers. Bringing local talent to local audiences.