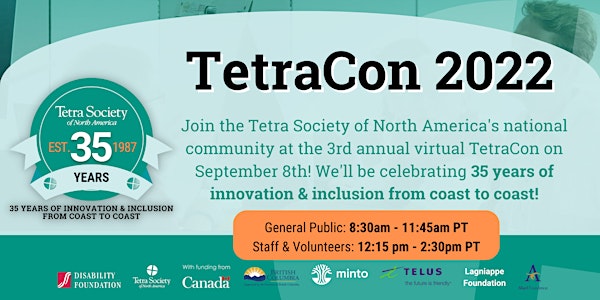 TetraCon 2022
TetraCon 2022 is the Tetra Society's national annual conference. Celebrate 35 years of innovation & inclusion from coast to coast!
Refund Policy
Contact the organizer to request a refund.
Eventbrite's fee is nonrefundable.
About this event
Celebrating 35 Years of Innovation & Inclusion from Coast to Coast
TetraCon 2022 is happening online on Thursday, September 8th, and tickets are available now. Trust us; you won't want to miss this!
General Public: 8:30am - 11:45am PT
Staff & Volunteers: 12:15 pm - 2:30pm PT
Since 1987, the Tetra Society of North America has been connecting people with disabilities to technically skilled volunteers who build devices that address environmental barriers at work, at home, at school, and at play.
Each year we're excited to see the familiar faces of longtime Tetra clients, volunteers, and chapter coordinators and also look forward to meeting those of you who are completely new to what Tetra is all about.
For Tetra's 35th anniversary, we're going virtual and hope to see you online starting at 8:30am PT (9:30 am MT, 11:30 pm ET, 12:30 pm AT).
TetraCon will have something for everyone! Join Regional Coordinators and MCs, Eric Molendyk, Sylvia Baliko, Andrew Jantzen and Crystal Leochko as they guide us through presentations from chapters across Canada, door prizes, guest speakers, and so much more!
Celebrating 35 Years of Innovation & Inclusion from Coast to Coast
The theme for this year's TetraCon is Innovation & Inclusion and will highlight the progress Tetra has made to support people with disabilities to live life how they wish to do so.
From recreational activities like video games, sports or music, to being able to travel across the world independently, Tetra devices address physical barriers found at home, work, school and play. Join us on September 8th to learn more about how this was accomplished!
---
Schedule (Note: events are listed in Pacific Time):
8:30am-8:40am: Welcome
8:40am-8:55am: TetraNation 2022 Winner Showcase
8:55am-9:00am: DOOR PRIZE DRAW 1
9:00am-9:15am: Requests to Project Completion from Client & Volunteer Perspectives
9:15am-9:30am: BREAK
9:30am-9:55am: Travel & Tetra: Tools for Travelling with a Disability
9:55am-10:30am: Sports & Tetra: Projects to Enable Your Athletic Journey
10:30am-10:35am: DOOR PRIZE DRAW 2
10:35am-10:55am: Computer Accessibility with netClé
10:55am-11:15am: Adaptive Video Gaming
11:15am-11:20am: DOOR PRIZE DRAW 3
11:20am-11:35am: Addressing Employment Barriers with the Youth Leadership Initiative
11:35am-11:45am: Thank you
11:45am-12:15pm: LUNCH BREAK
12:15pm-12:35pm: Reflecting on Tetra's Five-Year Plan
12:35pm-12:40pm: DOOR PRIZE DRAW 4
12:40pm-12:55pm: Tetra Social Media: An Update from Communications
12:55pm-1:00pm: DOOR PRIZE DRAW 5
1:00pm-1:15pm: BREAK
1:15pm-2:15pm: Get to Know Your Tetra Community: Team Building Exercise
2:15pm-2:20pm: Closing Remarks
Stay tuned at https://tetrasociety.org/tetracon/ for more details about the event.
Still not sure? Watch the recording from last year's TetraCon 2021.
---
About the Tetra Society of North America: For 35 years, Tetra has been building innovative solutions for people with physical disabilities to overcome environmental barriers, providing greater independence, quality of life, and inclusion. Learn more at www.TetraSociety.org.