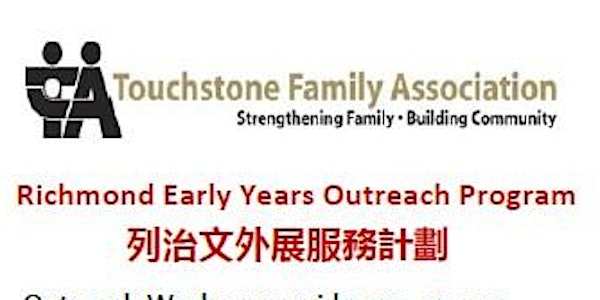 TFA Early Years Outreach Parent Support Group at Currie (Apr to Jun 2022)
Location
General Currie Early Learning Centre
8220 General Currie Road
Richmond, BC V6Y 1M1
Canada
点石家庭协会在General Currie小学的Early Learning Centre举办Parent Support Group活动,为家长们提供一个交流沟通的机会,让大家可以互相分享育儿和生活方面的一些经验, 同时了解社区资源和服务机构信息。
About this event
Between April and June, Touchstone continues to offer Early Years Outreach Support Group to parents and caregivers at General Currie Early Learning Centre on every Wednesday 9:30 am-11: 00am. Parents and caregivers of young children aged 0-6 are welcome to join and meet other parents and caregivers to share experiences, build peer-to-peer support and learn about community resources, programs and services valuable for families with young children.
2022年4 月至 6 月, 点石家庭协会在General Currie小学的Early Learning Centre举办Parent Support Group活动,为家长们提供一个交流沟通的机会,让大家可以互相分享育儿和生活方面的一些经验、挑战和困难,彼此倾听,互相支持。点石的工作人员会在活动中跟家长们分享一些对0-6岁儿童的家庭很有帮助的社区资源和服务机构信息。
时间:每周三上午9:30-11:00 (需要预先注册)
地点:General Currie Early Learning Centre
Limit 名额:8个家庭。
当您参加活动时, 如果没有人帮您暂时照看孩子(0-6岁), 可以带上孩子来参加;但是,我们也非常鼓励您自己来参加活动,给自己一些放松的时间,和其他家长交流沟通育儿、生活或其他你想了解的话题。
感兴趣的家长,请和点石工作人员 Gloria 和 Lan 联系咨询报名。電話: 604-341-2799
IMPORTANCE: Each family must read the Daily Health Declaration below.
请注意:每个家庭都必须阅读下面的每日健康声明。
https://sd38.bc.ca/sites/default/files/2020-09/Mandatory%20Daily%20Health%20Declaration%20Process.pdf
https://sd38.bc.ca/sites/default/files/2022-02/MandatoryDailyHealthDeclarationProcess_Chinese.pdf