Description
After a very encouraging first two days of TFT 101 in Red Deer prior to the 2018 PCCE Convention, we are looking forward to continuing this four day session with Day Three to be held regionally.
The sessions will be:
January 22, 2019 - Southern Alberta - in Calgary, Alberta (location TBD)
January 23, 2019- Northern Alberta - in Edmonton, Alberta (location TBD)
FAQs
Who is this session for?
This session is for participants who attended the TFT 101 sessions in October and for those who may have missed the opportunity then and feel that they could benefit from this collaborative work time now.
What do participants need to bring to this session?
We will be beginning with a gallery walk in which we share "artifacts" (photos, lessons, student work, reflections etc.) of our "tries" to incorporate our deep hope and a storyline into our classroom practice. A detailed description of our Commit to Tries and what artifacts you might bring were given to you in October. That handout can be found HERE. In addition to that you should bring your laptop, unit material for some planning around Throughlines, and your fantastic growth mindset along with any TfT questions or challenges you'd like the group to hear.
Does this session cost anything?
No. There is no fee to attend the session and the PCCE Office will take care of providing lunch and refreshments.
Please note that this session will begin promptly at 9:00 a.m. with coffee and refreshments served at 8:45 a.m.
Organizer of TFT 101 Day Three (Northern Alberta)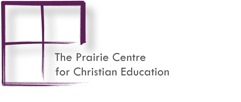 The mission of the The Prairie Centre for Christian Education (PCCE) is to provide leadership and support to Christian educational communities in the Canadian Prairie region.