Description
TFT leads… want to stay "in the loop" with TFT's ever-evolving practices, or grow your leadership and communication skills, or know how to maximize the TFT time you've been given, or get the support you need to keep moving TfT forward in your school?
PCCE is excited to invite the TFT lead teachers in each school to be part of an inaugural TFT Instructional Coaching Cohort that will help support and guide the delivery and growth of TfT in our membership schools. We will run two cohorts: a North Cohort and a South Cohort. Here is what the year will look like:
1st Cohort Meeting - An in-person Instructional Coaching kick-off on October 1st, 2019 Edmonton (North Cohort) and October 3rd, 2019 in Calgary (South Cohort) from 9:30am-2:30pm.


Individual Instructional Coaching Sessions - Jeremy will provide individual Instructional Coaching sessions with each TFT lead every 6-8 weeks (through a ZOOM meeting or in person).

2nd Cohort Meeting - We will reconnect in our South or North Cohorts in the spring to celebrate and share school stories. Dates, times and locations will be determined at a later date.
We would love to have at least one representative from every school as part of the 2019/2020 Cohorts!
PCCE will cover meeting costs (including lunch) and you will be responsible for transportation and substitute teacher costs. If these costs are prohibitive for participation, please let us know and we can try to figure out a solution.
NOTE: Deadline to register is September 27, 2019
Organizer of TFT Instructional Coaching Cohort (South)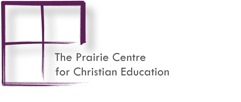 The mission of the The Prairie Centre for Christian Education (PCCE) is to provide leadership and support to Christian educational communities in the Canadian Prairie region.