Thank you everyone! An amazing event. For photos, follow up and to help do...
Description
Join us June 3rd to call on Premier Clark to say no to tankers and pipelines.
Kits Beach -- Shore of the Salish Sea -- Unceded Coast Salish Territory
Scientists tell us that we're running out of time to stop climate change. That means that we need to cut back on the things that cause it -- things like burning oil. Prime Minister Harper wants to build pipelines across BC and let foreign oil companies bring supertankers to our coast to ship oil to Asia.
That's a bad deal for everyone. It's a disaster-in-waiting for our coast, and it will bring the world one step closer to runaway climate change.
BC's Premier, Christy Clark, says she hasn't made up her mind on this issue yet. We say it's time to take a stand. If she cares about our future, she needs to say no to pipelines and supertankers.
If you agree, then we want to put you in the picture! We're taking out a full page ad in the Sun and Province -- see below -- so that we can tell the Premier that it is time to act. These ads will be seen by hundreds of thousands of British Columbians!
Originally we planned to just invite constituents in the riding to join in the photo, but the response we've had on the street has been so overwhelming that we've decided to invite everyone who cares to join us on June 3rd for the photo shoot. The current and future voters of Vancouver Point Grey are organizing this and collecting donations for the ad because Christy Clark is our MLA. However, she's everyone's Premier, so if you care and want to send a message, then join us!
Ready to take part? Please meet us at Kits Beach at 4 pm on June 3rd for the photo shoot for the ad. We hope you can contribute to the cost of the ad, and we also hope you will "register" for the event, because the ad is just the first step -- we want to build a strong network of concerned citizens so that we can call on government to take action. Questions about the campaign? Contact us at climate_action@vtacc.org.
A full page ad in both papers costs $13,440. That's a lot of money -- until you divide the cost up between all the people who care about this issue and want action. Many small donations will get the job done! Money raised as of May 26th: more than $10,000.
If you care and want to send a message to the Premier, here's how you can help make it happen:
1. Please donate using the "register" link above (or contact us directly at climate_action@vtacc.org for other options ), and
2, Tell all your friends and neighbours about the photo shoot on June 3rd -- in person, by email, and by Facebook, Linked In and Twitter using the links above. Scroll to the bottom of this page to see who has signed up so far -- when you "register" above, your name will be added to the list!
Here is a mock up of the ad -- put yourself in the picture June 3rd!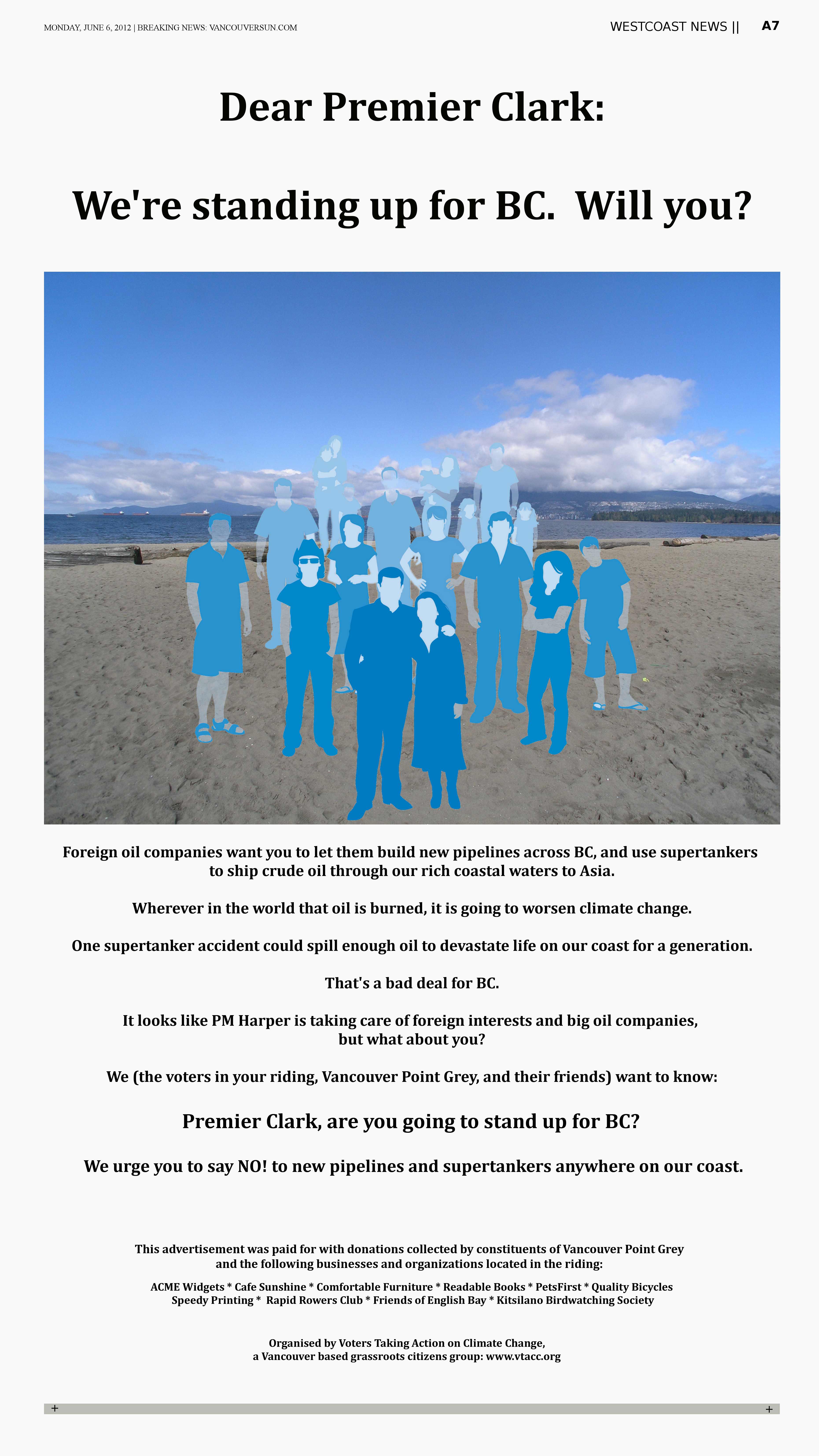 Organizer of Thank you everyone! An amazing event. For photos, follow up and to help donate to the ads please visit our website: http://vtacc.org/
Voters Taking Action On Climate Change
We are a grassroots group based in Vancouver that creates opportunities for citizens to call on governments to act on climate change.  We also meet with representatives and candidates directly in order to advocate for strong policies.
Past events include: 
Mobilizing for Action on Climate Change, a one day conference on effective climate change communications;
Our Beyond Coal billboard campaign near Westshore Terminal Coal Port in Delta BC;
Bridge to a Cool Planet, one of the largest climate rallies in the world on Oct 24th 2009;
Our Environmental Leaders Debate during the 2008 provincial election;
Climate Valentines to federal MP's from constituents across the country, soapbox derbies, parades and much more.
Visit our website for details or contact us at climate_action@vtacc.org.