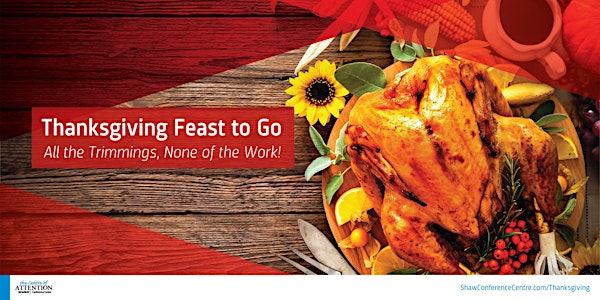 Thanksgiving Feast To Go: All The Trimmings, None Of The Work
When and where
Location
Shaw Conference Centre 9797 Jasper Avenue Shaw Conference Centre Edmonton, AB T5J 1N9 Canada
Description
This Thanksgiving, invite your friends and family over for a turkey feast prepared by Executive Chef Serge Belair and his team of 11 Red Seal chefs. Pre-order your feast before October 5 at 4:00 p.m. for only $177*! You'll receive one fully-cooked 14-pound turkey, including three delicious sides of homemade turkey gravy, sweet turkey stuffing and the Shaw Conference Centre's signature cranberry sauce. Additional sides are $11*
each and 5% of proceeds from each turkey dinner purchased will go to YMCA Youth Transition Program.
Additional side options include:
Artisan Greens with Blue Kettle Dressing - vegetarian, gluten free
Prairie Harvest Penne Pasta Salad with Sundried Tomato Dressing - vegetarian
Forest Scene Farm Buttermilk Mashed Potatoes - gluten free
Roasted Brussels Sprouts - gluten free, vegetarian
Shaw Conference Centre Honey Glazed Erdmann's Garden Carrots - gluten free, vegetarian
Famous Shaw Conference Centre Blueberry Bread Pudding - vegetarian
Each side serves 10-12 people.
All orders must be picked-up during one of the following times at the Shaw Conference Centre:
Sunday, October 7 from 11 a.m. to 1:30 p.m. or 1:30 p.m. to 4:00 p.m.
Or
Monday, October 8 from 2:00 p.m. to 4:00 p.m. or 4:00 p.m. - 6:00 p.m.
*One turkey feast order serves 10-12 people
*Price does includes 18% gratuity, but not taxes and fees
*For pickup only during specified times. Final sales close on October 5, 2018 at 4:00 p.m.
*No Refunds
Turkey is gluten and dairy free with gluten free gravy.
Please contact Annia Motes at 780.969.0409 or amotes@edmonton.com with any inquiries.