Multiple Dates
Thanksgiving Weekend Pottery Workshops and Pop Up Market
Join us for a weekend of workshops and a pop-up market featuring a curated selection of ceramic artists, food, coffee, and local produce.
About this Event
Thanksgiving weekend, Oct. 10 and 11, we will be hosting Pottery Workshops and a Pop Up Market.
Pop Up Market
TIME: 10 a.m. to 3:30 p.m.
PLACE: Parking lot at A Third Space Pottery Studio, 7 Franks Street, St. Catharines.
VENDORS:
One of a kind, professional ceramics by:
Andrew Kellner www.instagram.com/kellnerandrew
Candice Boese www.instagram.com/cand_ceramic
Haylee Strachan www.instagram.com/forceyourself
Kim Ross www.instagram.com/k.j.rossceramics
Rob D'orante
Chris Hartmann www.instagram.com/athirdspace

Pottery vendors' work, left to right: Chris Hartmann, Andrew Kellner, Candice Boese, Kim Ross
As well as:
Baked goods and beverages by Incoho Restaurant www.instagram.com/incohorestaurant
Fresh local produce by Small Scale Farms www.instagram.com/smallscalefarms
Please note, for healthy and safety purposes:
Masks are mandatory
There will be no public washrooms available
Workshops
Two-hour wheel-thrown pottery workshops will be run by Andrew Kellner and Rob D'orante.
SATURDAY:
9 to 11 a.m. Andrew Kellner
Noon to 2 p.m. Andrew Kellner
3 to 5 p.m. Rob D'orante
SUNDAY:
9 to 11 a.m. Andrew Kellner
Noon to 2 p.m. Rob D'orante
3 to 5 p.m. Rob D'orante
You will be guided through creating ceramic pots on the wheel by one of these highly skilled professional ceramic artists. At the end of the session choose 2 of your pots, which we will trim, fire and glaze in your choice of colour, ready for you to pick up within two weeks.
COST: $70 per person (including HST), and includes clay, trimming, firing, and glaze.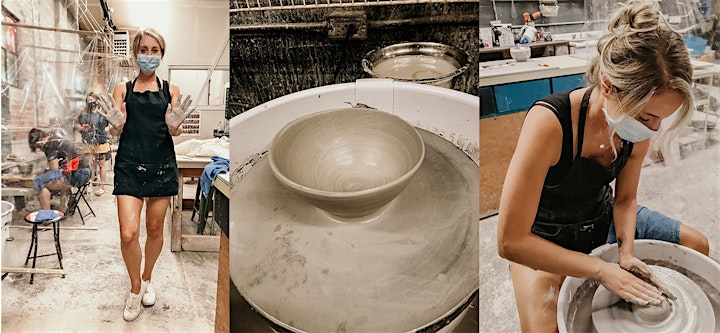 Please note, for healthy and safety purposes:
There are only eight spots available in each class to allow room for social distancing
Touch points in the studio are cleaned regularly with anti-bacterial cleaners
Plastic barriers have been put up between pottery wheels
Masks are mandatory
Please stay home if anyone in your household or anyone you have come in contact with is sick.