Let us take care of Thanksgiving for YOU and let you enjoy more time with the family! Pre-order a meal prepared by the YOU Made It Cafe.
About this event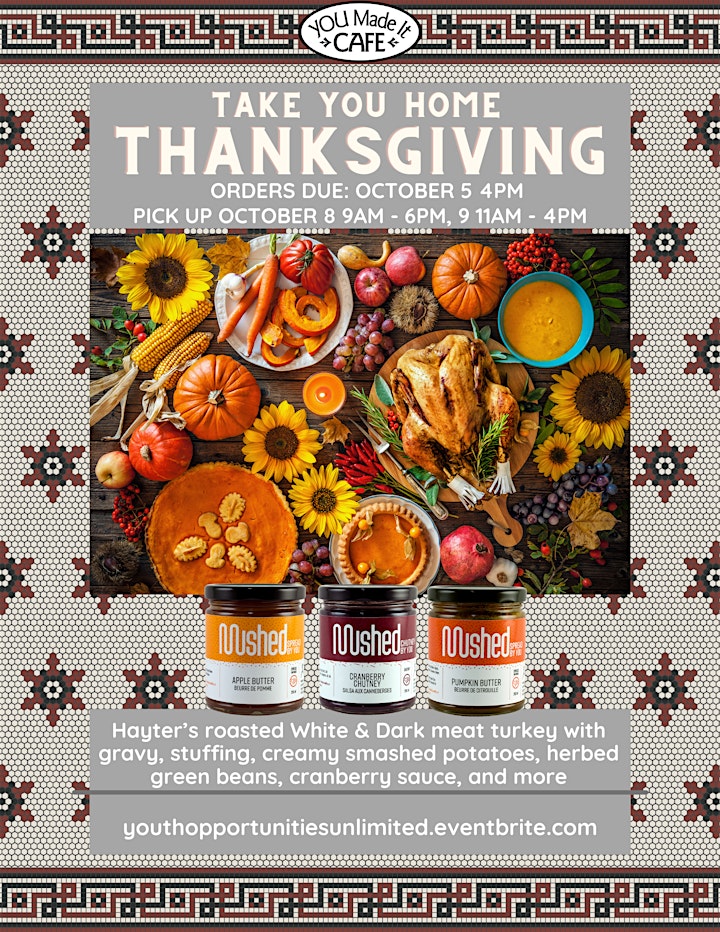 Take YOU Home: Thanksgiving
By ordering a meal you are directly supporting youth in our community.
Event Details:
Place your orders online by Tuesday, October 5th @ 4:00 PM.
Pick-up Times:
October 8th, 9:00 AM - 6:00 PM
October 9th, 11:00 AM - 4:00PM
Menu:
Hayter's Roasted White & Dark Meat turkey with Gravy, Stuffing, Creamy Smashed Potatoes, Herbed Green Beans, Cranberry Sauce [17]
Vegetarian:
Quinoa Stuffed Acorn Squash with Cranberry, Pumpkin Seeds & Goat Cheese with a side Arugula Salad [17]
Additions:
Roasted Beet & Arugula Salad with Goat Cheese, Spiced Pumpkin Seeds & Apple Butter Vinaigrette [5.5]
Butternut Squash Soup with Walnut Crumble & Maple Sour Cream Drizzle[4.75]
Choice of our Pumpkin or Apple Tart [4]
Mushed Cranberry Chutney
Mushed Sampler Set (Cranberry Chutney, Apple Spread, Pumpkin Spread) [15]
Meal Packs:
Family Meal: 4 portions of the main meal [62]
Thanksgiving Feast: 4 portions of: main meal, soups, salads, tarts, [110]
Note: All meals will be prepared prior to pick-up - ready to finish, and are to be refrigerated until ready to cook and serve! Prior to serving, simply bake in oven.
Donate Now
YOU is looking for donations to help us sustain our youth-based programming. Please consider making a donation at check-out or by clicking here.
What is the Take YOU Home dinner series?
Youth Opportunities Unlimited (YOU) highlights the chefs from the YOU Made It Cafe with themed take-out dinners to enjoy in the comfort of your home! By pre-ordering a dinner, you are supporting youth to gain the skills and confidence they need to obtain future employment in our community!
For more information please contact our event manager:
E: catering@you.ca
P: (519)432.1112 x 504
Organizer of Thanksgiving with YOU