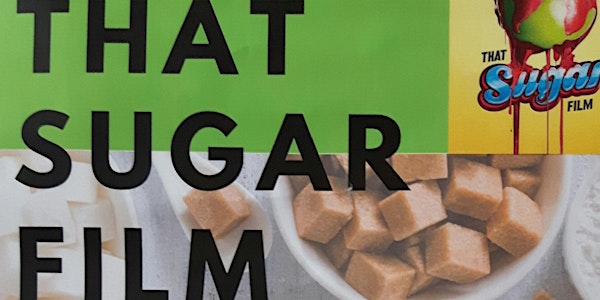 That Sugar Film Screening
When and where
Location
Trinity United Church 8810 Meadowlark Road NW Edmonton, AB T8N 2V2 Canada
Refund Policy
Contact the organizer to request a refund.
Description
Doors open: 6:00 pm. (Light refreshments will be served).
Film: 6:30 p.m.
Panel: 8:15 p.m.
OUR PANEL- Jennifer Clary - Registered Dietitian, Brad Fournier - Executive Director of The Alberta Diabetes Foundation, and Joanna Brown C.H.N,NNCP, BCR, R.P., CCWS, Raw Food Chef and Founder of Rejoice Nutrition & Wellness ( https://www.facebook.com/rejoicenutritionwellness/?rc=p )
THE EXPERIMENT - Damon only eats the perceived 'healthy' foods that are in fact laden with hidden sugars like low fat yoghurt, muesli bars, juices and cereals.
THAT SUGAR FILM is one man's journey to discover the bitter truth about sugar. Damon Gameau embarks on a unique experiment to document the effects of a high sugar diet on a healthy body, consuming only foods that are commonly perceived as 'healthy'. Through this entertaining and informative journey, Damon highlights some of the issues that plague the sugar industry, and where sugar lurks on supermarket shelves. THAT SUGAR FILM will forever change the way you think about 'healthy' food.
THANK YOU to The Diabetes Foundation, H & W Produce - Terra Losa, and Food4Good. Their sponsorship has made it possible for us to host this screening.
There is no charge for this event but If you are able, please consider making a donation. You can make a donation when you register online or at the door the night of the screening. All proceeds will support the work of Food4Good & The Trinity Food Justice Team. Pre-registering will help us plan for refreshments and seating.
The film features guest cameos from the likes of Stephen Fry, Isabel Lucas and Brenton Thwaites, interviews with Gary Taubes, Michael Moss and Dr Kimber Stanhope plus a rocking soundtrack including Depeche Mode, Peter Gabriel and Florence and the Machine.