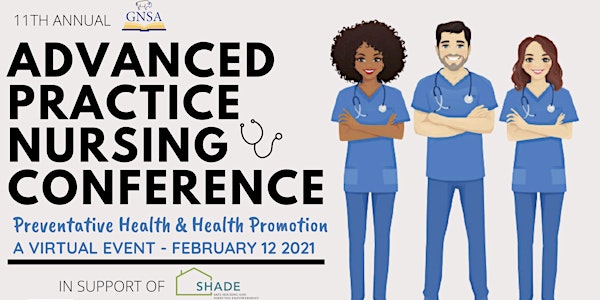 The 11th Annual Advanced Practice Nursing Conference
Join us on Zoom for our 11th annual APN Conference! This year's topic focuses on the APN's role in Preventative Health and Health Promotion.
About this event
Graduate nursing students from the University of Manitoba's Graduate Nursing Students Association (GNSA) and Brandon University are excited to invite you to the GNSA's 11th annual Advanced Practice Nursing Conference. Hosted in collaboration with the Association of Regulated Nurses of Manitoba, this conference is a free event and is open to anyone interested in learning more about the role of advance practice nurses in Manitoba and beyond. This year's conference will be hosted virtually, and its keynote speakers will be discussing their roles in preventative health and health promotion.
In conjunction with the APN Conference, each year the GNSA selects a non-profit charitable organization to highlight and support financially. For 2021, we are highlighting the important work done by Safe Housing and Directed Empowerment Incorporated (SHADE Inc.). SHADE Inc. is a Winnipeg-based registered charity which provides housing and supports for immigrant and refugee women and their children who have been impacted by domestic abuse/family violence (www.shadewinnipeg.org). In lieu of conference fees, we ask conference attendees to consider making a donation to SHADE Inc. To do so, please click "Donate" on the following link: https://www.shadewinnipeg.org/individual-donations. Please write "GNSA" in the comments section to allow for easier tracking of donations. Any donations over $25 will qualify for a tax receipt. 
We ask that all individuals wishing to attend the GNSA's 2021 APN Conference please acquire an individual ticket through Eventbrite. After this and before February 12th, conference registrants will receive a zoom link. We ask that registrants not directly share the conference link with other potential attendees but rather refer them to this page to register individually themselves. This will enable our conference planning committee to more accurately estimate attendee numbers and optimize the conference experience for all. Additionally, all conference attendees who acquire an Eventbrite ticket in advance will be automatically entered to win one of our amazing door prizes! Get your ticket today and stay tuned to our social medial accounts to see what these prizes are.
Instagram: @gnsa_um
Twitter: @gnsa_um
Facebook: @gnsa.um
Keynote Speakers
Get to know our guest speakers with this short biography!
Barbara Catt, RN, BScN CIC MEd
Barbara Catt has worked in the field of Infection Prevention and Control (IPAC) for many years. Her work experiences include emergency room, operating room, ICU, medical-surgical, long-term care, and professor of nursing at college and university levels. She has worked in a variety of health care settings including public health, small community hospital and large tertiary health care centre.
Barbara is a registered nurse and holds a Master in Education where her research focus was adult learner principles. She has been involved in research and publications regarding disease transmission and education such as core competencies.
Currently, Barbara is working at Scarborough Health Network as the IPAC Manager for Congregate Settings as well as faculty for Centennial College, teaching IPAC courses. She played a major role in curriculum development and implementation of core competency certification and hand hygiene initiatives. She continues to be an active member with IPAC Canada, APIC, CON, and RNAO.
She has served on numerous committees including Standards and Guidelines, HealthPro Clinical Advisory, Prehospital Care Interest Group, Education Core Committee and has severed as a Board Member for IPAC Canada since 2014 in which she is the current IPAC Canada President.
Barbara is a past member of IPAC Canada Standards and Guidelines, HealthPro Clinical Advisory Committee and past president for IPAC Greater Toronto and Area Chapter. She continues to be an active participant on committees such as IPAC Canada's Prehospital Care Interest Group, Core Education Committee and Basic IPAC Course Advisory Committee. Since 2014, Barbara has served as a Board Member for IPAC Canada and is currently the IPAC Canada President.
John Jackson, Master of Psychiatric Nursing, PhD in Nursing Student
John Jackson is a mental health clinician and community advocate. He holds a bachelor of science in psychiatric nursing, a master of psychiatric nursing degree, and is a current PhD in Nursing student.
His roles have included clinical and senior leadership positions, teaching, and business endeavours in independent practice. Between 2018 and 2020 he worked with government and the community to secure financial investment to expand the only homeless shelter in Western Manitoba. Currently, John provides therapy in his business Divergent Counselling and facilitates workplace wellness sessions across Canada.
John is the student representative on the CASN Accreditation Bureau and is a member of the College of Registered Psychiatric Nurses of Manitoba Discipline Committee. He has participated as a subject matter expert for the registered psychiatric nursing competency exam four times. His academic and research interests include nursing and allied health profession regulation, the division of labor in health care and substance use disorder.
Lea Mutch, CNS
Lea Mutch is a Clinical Nurse Specialist with the Population and Public Health Program of the Winnipeg Regional Health Authority.  Prior to her role as a Clinical Nurse Specialist, Lea worked as a registered nurse in a variety of areas. Throughout her career Lea has focused on the health and well-being of Indigenous peoples.  In her current role, Lea uses Indigenous ways of knowing and with a focus on Indigenous health, health equity, and provides clinical expertise to guide Public Health Nursing practice in the area of healthy parenting and early childhood development.
Rachel Wiebe Skouta, RN NP
Rachel completed her Masters of Nursing – Nurse Practitioner program at the University of Manitoba in 2013. She is an Instructor II at the Faculty of Nursing, University of Manitoba and a Clinical Preceptor for Nurse Practitioner students from a variety of Canadian universities.
Rachel provides primary care services in the Southern Health – Santé Sud Regional Health Authority. She works with youth ages 12-21 at the Portage Collegiate Institute Teen Clinic in Portage La Prairie and with all ages at the MacGregor Health Centre.
Schedule of Events
(subject to change)
1830 - 1900 Open Door - technical support available if having issues
1900 -1905 Opening Remarks
1905 -1915 Blessing and Welcome – Leslie Spillet, Knowledge Keeper in Residence for Faculty of Nursing
1915-1925 Welcome from the Dean of the College of Nursing – Dr. Netha Dyck
1925 - 1940 Barbara Catt, RN BScN, MEd (Adult Learning)
1940 - 1955 John Jackson, MN in Psychiatric/Mental Health Nurse, PhD student in Nursing
1955 - 2010 Lea Mutch, CNS
2010 - 2025 Rachel Wiebe Skouta, NP
2025-2045 Panel Discussion
2045 - 2100 Presentation from SHADE Inc.; closing remarks