Description
You're invited to the third annual CJN Prize Awards Ceremony.
Support and celebrate, the literary achievements of young writers from across Canada ages 18-29. Finalists honoured will share excerpts from their winning essays on the Jewish theme of their choice.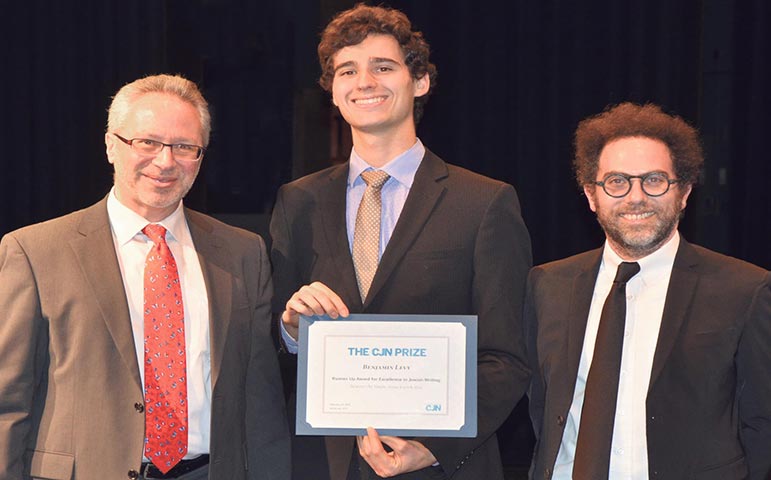 From left: Carl S. Ehrlich Director, Israel and Golda Koschitzky Center for Jewish Studies (York U.), 2017 award runner up Benjamin Levy, Yoni Goldstein Editor, The CJN
Check-In & Reception: 6:30 p.m.
Awards Ceremony: 7:30 p.m.
A dessert reception will follow the awards presentation.
*Kashrut observed
Special Guest Speakers:
Abigail Bimman - A Global National Ottawa correspondent and award winning journalist
Linda Frum - Honorable senator for the Province of Ontario, former journalist and author
Submissions judged by our esteemed panel:
Avrum Rosensweig, Abby Brown Scheier, & Marc Weisblott.
Parking available at the Student Services parking garage at James Gillies St. and Fine Arts Rd.
TTC access: From Line 1 - York University station exits directly across from the Accolade East Building
Campus map: http://maps.info.yorku.ca/files/2013/02/KEELE_Map_Colour.pdf
Proudly sponsored by:
The Israel & Golda Koschitzky Centre for Jewish Studies and Applause Catering
Organizer of The 2018 CJN Prize Awards Ceremony
The Canadian Jewish News ("The CJN") is an independent, not-for-profit media organization whose mission is to provide trusted Jewish news and connect our community across Canada via its print, digital, and on-line platforms. Anchored by news gathering offices in Toronto and Montreal, with correspondents across Canada and in Israel, The CJN provides its readers with news of the Jewish community in Canada, Israel, and throughout the world. It also offers a wide array of features, commentary and opinions, as well as weekly stories and features on arts, travel, business, campus life, sports, and health.