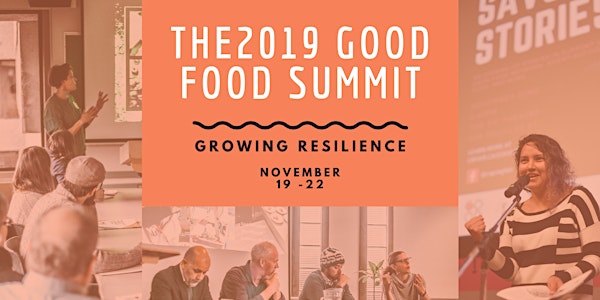 The 2019 Good Food Summit: Growing Resilience
Location
Songhees Wellness Centre
1100 Admirals Road
Victoria, BC V9A 2P6
Canada
Refund policy
Contact the organizer to request a refund.
Eventbrite's fee is nonrefundable.
Let's celebrate and strengthen our efforts towards creating sustainable, healthy, just food systems in the capital region.
About this event
The 2019 Good Food Summit: Growing Resilience
NOVEMBER 19 - 22
Each year our Good Food Network gathers to celebrate and strengthen our efforts towards creating sustainable, healthy, just food systems in the Capital Region.
The Good Food Summit emphasizes cross sector collaboration, networking, skill building, and highlights the Good Food work happening in the Capital Region. This event draws educators, farmers, students, health care professionals, and more.
Good Food is: good for the planet, good for the provider, good for the health and well-being of all
The Good Food Network launched in 2015 as a way of connecting across sectors and silos to engage the whole food system. Strengthening diversity and collaboration are critical to achieving system change.
This years summit has a number of components:
CLICK HERE FOR THE FULL 4 DAY BREAKDOWN OF EVENTS
CLICK HERE FOR THE MAIN GATHERING PROGRAM
_____________________________
TICKET INFORMATION
~~~Tickets are available until Wednesday, November 20th at 3:00PM.~~~
Savoury Stories Tickets available here: https://www.eventbrite.ca/e/savoury-stories-2019-good-food-summit-launch-tickets-64628874704
If the ticket price is a barrier for you or someone you know please let us know as there are a number of sponsored tickets free of charge. Please e-mail engagement@crfair.ca or call 778-678-8450. Please contact us with any questions regarding venue/event accessibility.
______________________________________
LAND ACKNOWLEDGMENT
CRFAIR promotes healthy and sustainable food systems. This considers our relationships with each other, and the land and waters of this region. We endeavour to honour the land and its treaties by strengthening our relationship and responsibilities to them. We live and work on unceded Coast Salish Territories*, specifically of the Lekwungen (Songhees and Esquimalt Nations) and W̱SÁNEĆ (Tsartlip/W̱JOȽEȽP, Tseycum/WSIḴEM, Tsawout/SȾÁUTW, and Pauquachin/BOḰEĆEN Nations).
The presence of settlers (non-Indigenous peoples who live on these lands) is not neutral; it has had and continues to have devastating impacts on many aspects of life for Indigenous peoples. Many of our practices, including the seeds we plant, the ways we educate, and our methods of growing food came to these lands through the ongoing process of colonialism. Settler colonialism has suppressed local well-being by harming Lekwungen and W̱SÁNEĆ food systems, whether they be land-based or of the sky and sea. We hold this understanding in our interactions and engagements with this land and its people.
There is important work being done by many nations and allies to ensure the continued thriving of these food systems, communities, and knowledge systems. Those of us who are settlers need to recognize that our knowledge and way of doing things may not be the priority as we work towards food security for everyone in this region.
* The term Coast Salish is used to encompass a number of Indigenous peoples, including Esquimalt, Hul'qumi'num, Klahoose, Lekwungen, MALAXEt, Musqueam, OStlq'emeylem, Pentlatch, Scia'new (Beecher Bay), Sliammon, Shishalh, Skxwú7mesh-ulh Úxwumixw, Stó:lo, Straits, Tsleil-Waututh, T'Sou-ke, W̱SÁNEĆ, and Xwemalhkwu.
________________________
STAY IN TOUCH
This event is brought to you by the Capital Region Food and Agriculture Initiatives Roundtable (CRFAIR). http://www.crfair.ca/
Questions? Email engagement@crfair.ca
Visit the Good Food Network website: https://www.goodfoodnetwork.info/
Share the GFS event on Facebook: https://www.facebook.com/events/387357958621764/
Follow @thegoodfoodsummit on Instagram. Tag us in photos! #2019goodfoodsummit #growingresilience