The 2019 Ted Knight Saskatchewan Hockey Hall of Fame Induction Dinner
About this Event
The 2019 Ted Knight Saskatchewan Hockey Hall of Fame Induction Dinner
In 2012 the Saskatchewan Hockey Hall of Fame (SHHOF) opened its doors in Swift Current and each year hosts a Dinner to honor the contributions and achievements of the current years inductees. The Dinner is rotated around the province to celebrate local inductees and raise funds to benefit the Hall of Fame.
This year's Dinner is being held in Saskatoon for the first time and will take place on Saturday, July 6th, at Prairieland Park. The Eighth Annual Induction Dinner will celebrate the careers and accomplishments of the following class of 2019 inductees:
Player Category: Murray "Bert" Olmstead, Ferdinand "Fernie" Flaman, Keith Magnuson, Curtis Leschysyn, Brian Skrudland, Ed Van Impe
Builder Category: Murray Armstrong, Maxwell "Max" McNab, William "Bill" Thon, The Brodsky Family
Official Category: Brad Watson
Grassroots Category: Jim McIntyre, Joe Bloski
Team Category: 2004-05 Saskatoon Contacts and the 1967 Saskatoon Centennials
PURCHASE YOUR TICKETS OR TABLE TODAY!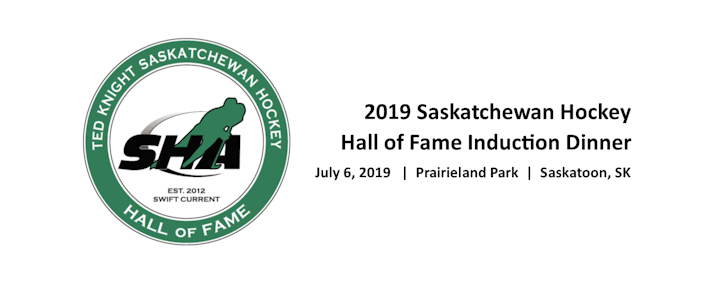 EVENT INFORMATION
2019 Ted Knight Saskatchewan Hockey Hall of Fame
Saturday July 6, 2019
Cocktail Reception: 6:00 pm
Dinner: 7:00 pm
Where: Prairieland Park (Hall A), Saskatoon
Dress: Business Casual
ACCOMMODATIONS
Out of town guests can choose to reserve a room at the Ramada Hotel & Golf Dome and access our group rate of $95 plus taxes for July 5-8 and will include a complimentary Hot Express Breakfast Buffet. Group name is SHHOF (Saskatchewan Hockey Hall of Fame).
Ramada Hotel and Golf Dome, 806 Idylwyld Drive North, Saskatoon, SK. Tel: (306) 665-6500. Toll Free: 1-800-667-6500 www.ramadasaskatoon.com