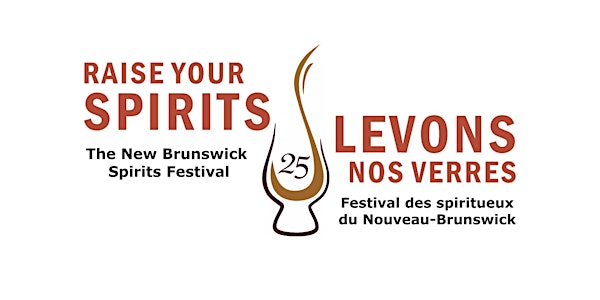 The 25th New Brunswick Spirits Festival
The 25th New Brunswick Spirits Festival
When and where
Location
Delta Hotels by Marriott Fredericton 225 Woodstock Road Fredericton, NB E3B 2H8 Canada
About this event
Canada's oldest spirits festival celebrates its 25th anniversary this November 2022!
With 44 events over 5 days, this is an amazing opportunity to experience fine spirits from all over the world, many of which are rare and limited. You will have the opportunity to learn from some of the industry's most knowledgeable Master Distillers and Brand Ambassadors. Our festival showcase on Friday will feature over 350 products to sample, including single malt and blended whisky, gin, vodka, rum, and more!
The festival will also feature Lunches, Dinners, Masterclasses, an Ultimate VIP Experience for the Friday showcase, the popular on-site ANBL store, and exclusive Saturday Masterclasses all featuring our world-class presenters.
The Festival has zero tolerance for drinking and driving, and we make it as easy as possible for you to get home safely. A free taxi ride home within Fredericton city limits is available for ticket holders, sponsored by Alcool NB Liquor.
YOU MUST BE AT LEAST 19 YEARS OF AGE TO ATTEND THIS EVENT

Where do I find tickets to the Ultimate Master Class?
The high-demand ticket for the Ultimate Master Class is bundled with "The Ultimate VIP Experience"
What should I wear?
The NB Spirits Festival is a prestigious event and our patrons dress accordingly. For reasons of safety and security, costumes, masks, and similar attire are prohibited.
How do I get there?
The Delta Mariott Fredericton is at 225 Woodstock Road in Fredericton. Please take a cab or get someone to drive you if possible.
How do I get home?
We offer a free taxi ride home within Fredericton City limits. The Festival has zero tolerance for drinking and driving, and Fredericton Police will be well informed about the event. If you don't want to take a taxi, have someone meet you, or better yet stay at the Delta for the night.
Do I need to bring a glass with me?
No. A nosing glass will be provided to you at registration.
What if I lose my nosing glass?
If you lose your nosing glass, we'll have wine glasses available in the tasting ballroom. Sorry, we can't replace lost or broken nosing glass.
There's a product that I want to be sure to try. How can I find out which booth is pouring it?
There will be a complete list of what's being poured on the festival website.
Is there parking at the hotel?
The hotel does have parking available, but we encourage the use of public transportation, carpooling, getting dropped off, or taking a taxi so that no one ever tries to drive themselves home after the event.
Do I need to use vouchers to get tastes of the whiskies I want to try?
No. Once you are in the ballroom you are free to taste any of the products. However, excessive drinking and intoxication won't be tolerated, and you'll be asked to leave.
Can I get a ticket at the door?
Pending availability, most tickets can be purchased online up to15 minutes prior to an event starting.
Is there a coat check available?
There is a coat check available at the event.
May I bring my briefcase with me?
Backpacks, briefcases, tote bags, or any other such items, are not permitted inside of the Festival Showcase. You will be asked to leave them at the coat check.
Will there be food available?
There will be a variety of nibbles available. There is also bread placed around the room to help cleanse your palette, and we encourage you to eat from time to time.
Will there be coffee or soft drinks available?
Water will be provided throughout the evening, and the Delta bar and restaurant are open for anyone who wishes to purchase a meal or beverage.
Do I need to purchase an NB Spirit Festival ticket to shop at the on-site ANBL store?
No. You are welcome to shop at the on-site ANBL store during its hours of operation: Friday, November 18th from 6:30pm to 11:00pm.
When I leave, can I give my pass to someone else to go in?
No. There are only so many drinks to go around, and you willl have a wristband that is not transferable.