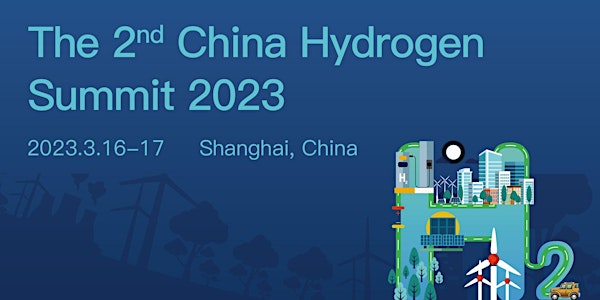 The 2nd China Hydrogen Summit 2023
The 2nd China Hydrogen Summit 2023 will focus on the latest progress of hydrogen production technology, hydrogen's commercial applications..
When and where
Location
上海市 Shanghai,China 上海市, 上海市 200000 China
Refund Policy
Contact the organizer to request a refund.
About this event
1 day 9 hours

Mobile eTicket
The 2nd China Hydrogen Summit 2023
SUMMIT BACKGROUND
At a time when global climate issues are coming to the fore, decarbonization of the energy system is the key to sustainable development. Hydrogen, with the characteristics of wide source, clean, safe, controllable, and so forth, will become the key to decarbonize the energy system. Many governments around the world have developed many policies to stimulate the development and application of hydrogen. For example, in China, hydrogen and fuel cells are expected to play an important role in achieving the country's official commitment to be carbon neutral by 2060, and have been incorporated into many economic development plans and policies. At present, the development of the hydrogen industry is still faced with urgent problems such as higher costs, less mature technology and inadequate supporting facilities, which need the participation of the whole industry chain to jointly promote the future commercialization and landing of the hydrogen industry.
The 2nd China Hydrogen Summit 2023 will focus on the latest progress of hydrogen production technology, hydrogen's commercial applications in steel, chemical, automotive and energy storage, industry market dynamics and policy analysis. Analyse the hydrogen industry from all aspects, providing the industry insiders with a clearer picture of the direction of development and potential opportunities to make better use of hydrogen and achieve truly low-carbon sustainable development for all societies.
Hot Topics
Unlocking Hydrogen Economy Potential;
How Enterprises Can Enter the Market of Hydrogen Carbon Trading;
Hydrogen Fuel Storage Systems;
Green Hydrogen Energy Technology under the Double Carbon Goal;
Hydrogen Technologies for a CO2-neutral Chemical Industry;
Analysis of the Latest Advances in Hydrogen Storage and Transportation Technology;
Hydrogen Empowers Green Steel Smelting, Create Non-fossil Steel;
Panel Discussion: Exploring the Path of Hydrogen Energy Commercialization and Scale-up;
Analysis of Recent Advances in Nuclear Hydrogen Production;
Practice Sharing of Solar Water Electrolysis for Hydrogen Production;
Hydrogen Fuel Cell Applications and the Road to Commercialization;
Inovative and Safe Hydrogen Fuel Cell Vehicles;
The Future of High Power Fuel Cells in Engineering Vehicles;
The Value of Hydrogen Energy Storage in New Power Systems;
........
Highlights
Consecutive 2th year,Hydrogen in ECV Carbon Neutrality Series;
16+Industry Leading Company's Intelligence Sharing;
120+ Professional Delegates from Top 2000 Companies;
2 days closed-door business conference,Sharing Global experience;
Target customers
Heads and experts in hydrogen related management, technology, R&D, strategy, investment, marketing and so on from sectors like Consulting, Research Units, Construction Equipment, Energy, Chemical, Steel, Automotive, Fuel Cell System Manufacturer, Material Supplier, Components Manufacturer, Industrial Manufacturing, Logistics, Transportation and so on.
Welcome all industry colleagues to attend the conference!
To get more information, please click website:
http://www.ecvinternational.com/HydrogenEnergy/index.html
Contact us
Tel:+86 21 8026 0707-803 
Phone: 13271915990(WeChat )
Email: marketing@ecvinternational.com