Create a Quantum Startup in 30 minutes? Challenge accepted.
About this event
This event is for: Startup enthusiasts interested in quantum technology, quantum enthusiasts interested in startups, and students.
Join a fun and interactive workshop to learn more about the startup way of thinking and quantum technology.
Rebecca Krauthamer, CEO of Quantum Thought and Visiting Entrepreneur in Sydney in 2021 will be facilitating this workshop to teach you how to think like a quantum entrepreneur.
Don't know much about quantum technology or entrepreneurship? Don't worry!
In this workshop you will:
Learn about quantum businesses from international expert Rebecca Krauthamer
Work on a quantum solution to a real-life problem using design thinking
Learn how you can evolve a solution to a potential startup
Network with some future bright minds in quantum science and technology
About the Visiting Entrepreneur Program
This event is part of the Visiting Entrepreneur Program, an annual City of Sydney initiative that connects international entrepreneurs with our local startup ecosystem. The 1-10 June 2021 program puts a spotlight on transformative technologies tackling major global challenges, with an emphasis on biotechnology and quantum technology. See the full program at city.sydney/vep #VEPSyd
About the organisers:
Sydney Knowledge Hub
Sydney Knowledge Hub facilitates collaboration between academia and industry.
Members of the Sydney Knowledge Hub have access to a modern coworking space in the heart of campus and to a rich array of community programming and events in one of our many event spaces. The Sydney Knowledge Hub also helps members connect with the researchers, grant consultants, labs and makerspaces, and other resources at the University of Sydney.
Sydney Quantum Academy
Sydney Quantum Academy (SQA) is a unique partnership between four universities – Macquarie University, UNSW Sydney, the University of Sydney and University of Technology Sydney – generously supported by the NSW Government. Our vision is to build Australia's quantum economy. Collaborating with academia, industry and government, SQA harnesses Sydney's collective quantum expertise to develop diverse talent and a globally recognised quantum ecosystem.
INCUBATE
INCUBATE is the multi award-winning startup program that promotes entrepreneurship within the University of Sydney community, with multiple programs supporting people at any stage of their entrepreneurship journey.
Generate ideas and early-stage startup skills in the Proto and ProtoX workshops or apply for the next award-winning INCUBATE Accelerator program, which launches startups into the ecosystem with industry mentoring, connections, and seed funding.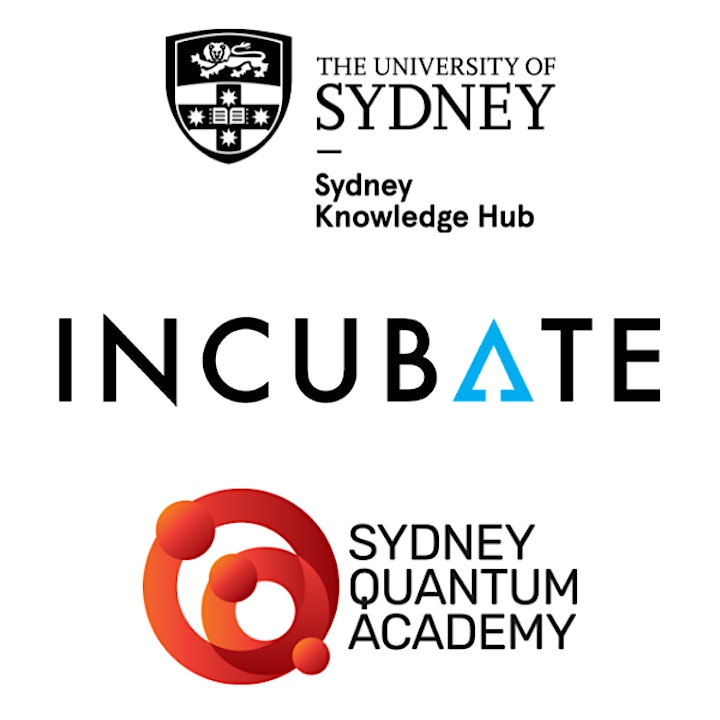 Organiser of The 30-Minute Quantum Startup - Visiting Entrepreneur Program