| | |
| --- | --- |
| The 4 Lesbian Love Secrets Online Course or Coach Certification | |
Event Details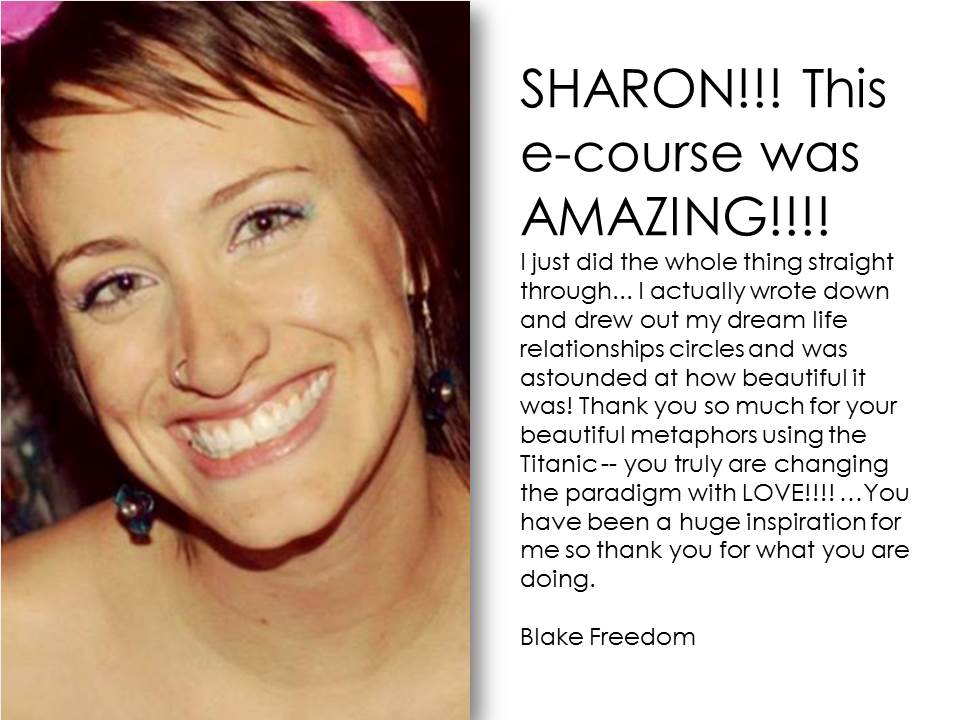 You Deserve Love & Respect
Are you a lesbian, or an LGBT woman (who is lesbian, gay, bisexual or trans)?
Would you like to experience caring, rewarding relationships, but deep down,
are you feeling…
afraid of rejection?

hurt by the times you got burned in the past?

secretly ashamed, and afraid that you might not be "good enough"?
If you answered "yes", you are not alone, and you are not to blame. You may have been rejected by your community, neighbours, workplace, family, friends and/or former partner(s). Often, these rejections were not even your fault. Often, they were caused by a crazy system that I call The Titanic Traps(TM). Did you see the movie, Titanic? It really shows the old school way of creating relationships.

Are Your Relationships on the "Titanic" or in "Paradise"?
The Titanic is the perfect symbol of the old shame-based mentality. Man above nature, man above woman, first class above second and third class, white people above people of colour, straight people above LGBT. In a system built on shame, fear and rigid hierarchies, people become alienated from themselves and each other. We spend enormous amounts of energy desperately trying to be "good enough."
Sexism and homophobia have eroded our love and our self-esteem. Of course you are afraid of rejection! Most lesbians still don't even enjoy basic human rights. Most lesbians in the world today still can't even get married legally. Our love, and in fact our very humanity has been rejected over and over. As a result, deep down, many of us fear we are not "good enough" for love. Rejection can cut like a knife when it feels like "proof" of that deep shame-based belief that we are not important or not "good enough". In fact, your heart may feel like it got thrown in the trash… on the Titanic!
Many school systems teach competition for "scarce" grades and approval. Children who are shame-filled can seem easier to control. Likewise, the media fills us with shame in order to sell more products. Many religious organizations teach that we are shameful "sinners" as a way to gain power, control and money. Likewise, many workplaces use rigid hierarchies and cut-throat competition to motivate employees to work insane hours for low pay. Even many families foster shame in children in an effort to control them. People who believe that they are not "good enough" are easy to manipulate, so many people in power send that message on a regular basis.
Their message, over & over is, "You are not good enough as you are. You are ugly, you are fat, you are stupid, you are evil, your passion and sexuality are evil, and you have ring around the collar! Do what we say! Give us your obedience, your time and/or money, and we will make you "good enough" for a short while. Pay us for the product/ service/ grades / degree / job title/ redemption from sin that you need. We will make you attractive enough, smart enough, strong enough, rich enough or spiritual enough!"
As a result of the Titanic system, most of us spend enormous amounts of energy struggling to keep from sinking into the icy waters of shame. How can we possibly communicate when all we can think about is our emotional survival? Whenever conflict or challenge comes up, it's like we hit an iceberg of pain. How can we create great relationships as our ship is sinking?
There is hope.
You are about to learn four powerful, surprising secrets to lesbian love. These secrets are like a golden helicopter that can rescue you and your relationships from the Titanic, and transport you to paradise.
First, you're probably wondering who I am and why you should listen to me.
My Story
When I was five years old, I got a crush on my friend's sister, who was four. I drew a flower for her and gave it to her, saying "she's so pretty." Her parents gave me strange looks and muttered to each other in a tone of disapproval. I couldn't understand why they were so rude. I hadn't done anything wrong or hurtful.
In high school, I remember walking down the halls of my high school and feeling my face get hot every time I saw a certain girl. I didn't know why she gave me butterflies in my stomach. Then I went home to hear my farther, a preacher and a very highly ranking church official, ranting about why gays & lesbians should not be allowed to work as ministers.
I felt lost in a grey haze, disconnected from my body and my real feelings. Nothing I could think of to say seemed "good enough", so I spent most of my high school years in silence. In fact, I was so painfully shy, I earned the reputation as "the kid who can't even talk." For years, this shyness really affected my love life. I set a goal to overcome shyness and learn how to relate to other people. It quickly became my obsession.
This book is based on almost 20 years of dating & relationship experience with women. This book is also based on a Master's degree in Psychology I earned before coming out, and some online research and surveys that got responses from hundreds of queer people from around the world.
Finally, I had a breakthrough. I learned some secrets that dramatically enhanced my love life, my friendships, and my career. Over the past 25 years, I've also taught thousands of people about creating great personal & professional relationships. I love this field, because there's always more to learn. Especially in our community, where there seems to be only one or two degrees of separation between every lesbian on the planet. The potential for drama is endless when your ex is dating the ex of your best friend whose softball coach is dating the ex of your… Does this sound familiar? If so, you're lesbian.
After learning the secrets you're about to learn, I dated many fabulous LGBT women, including a few celebrities, a model, the executive producer of my favourite television show, a few singers, a gorgeous pilot, a few entrepreneurs, and a few women with multiple degrees after their names. Some of the women I met were coffee dates, and some of them were long-term soul mate relationships that lasted for years. For almost 20 years, I've dated women and organized women's social events, and I've enjoyed deep, heart-felt soul connections with my friends and girlfriends.
With these secrets, most of my shyness and angst has disappeared from dating.  
If you're busy and /or sensitive like me, you may find that these secrets save you years of time and heart-ache that can come from being in a less-than-awesome relationship.
You deserve awesome! So let's get started!
What are Your Relationship Hopes & Dreams?
Would you like to learn relationship secrets for your personal life, so you can…
enjoy more confidence & self-love?

build trust & rapport more quickly & easily?

attract your soul mate and create a great relationship with her?

enjoy more safe touch and affection?

enjoy mutual support?

enjoy loving sexual and emotional intimacy?

enjoy healthier, happier, longer-lasting relationships?

enhance your happiness, health, and wellness?

enjoy a sense of belonging?
If you had total confidence, what would you do?
Would you like to
... ask that woman you like for coffee?
… spend more time with your parents and/or your children?
… ask your girlfriend to move in with you and/or marry you?
… stand up to a homophobic bully at work?
… be your own boss and attract great clients?
. . .ask your long-time partner to go on a retreat and bring the romance back into your relationship?

How Can Great Relationships Attract
Your Success?
Would you like to learn relationship secrets for your professional and/or community life so you can…
resolve conflicts more quickly and easily?

prevent bullying or abuse?

enjoy more career success?

make a greater difference in the world?
You Hold the Keys to Your Dreams
In this course, you will learn...
The Four Titanic Traps that Kill Relationships

Your Three Essentials to Relationship Health & Safety

Your Four Keys to Free Heart Communication

The Three Secrets of Free Heart Hugs
In the full course, you will also get...
A full 66-page manual with the secrets to creating great relationships in your personal & professional life

One full year membership in our Exclusive Lesbian Love for You Online Network (and /or membership in our 4 Secrets to Great Relationships Network for people who are not LGBT women))

Opportunity to join our V.I.P. circle with live weekly calls to answer your questions and get support to achieve your dreams (Silver Member & above)



You are invited to join us. Simply click above
If you have questions, you can contact https://www.facebook.com/sharon.love.583671

 You are invited to join us.

Simply click above.
Would you like to earn a Certificate as a
4 Love Secrets™ Coach?
Would you like to…
Make a living by making a difference?

Inspire people to create more loving and peaceful relationships?

Enhance your own personal & professional relationships?

Join a team of like-minded people?

Enjoy the freedom of living & working wherever you want?

Be your own boss and succeed in self-employment?

Attract your ideal clients quickly and easily?
You will learn through:
Live interactive weekly tele-classes

Learning videos

Practicing with clients

Coaching Social Network Q & A Centre Online

Coaching Exercises

Private coaching with S.J. Love, M.Ed. (1 hour per level))
Level 1: In this 10-week course, you will learn:
How to Apply The 4 Love Secrets™ in Your Personal Life

How to Apply The 4 Love Secrets™ with your Clients

The 3 Keys to Creating Win-Win Coaching Relationships™

The 5 Steps to Black Belt Personal Power™

The 4 Secrets to Free Your Heart and Heal™

 
Level 2: In this 10-week course, you will learn:
The 5 Steps to Changing Lives with Your Feedback™

The 5 Secrets to Attracting Your Ideal Clients™

The Two Billionaire Blockbuster Storytelling Secrets to Build your Credibility™

The Paradise Process (Peaceful Conflict Resolution Method)™

The 3 Keys to Inspiring Audiences with Your Six-Figure Speech™
To earn a certificate, you will:
participate in 80% or more of tele- classes

sign the coaching code of ethics

complete and pass all assignments (2-3 chances each time)
Choose Dates & Times that Suit You
You can choose to attend tele-classes on Saturdays at 2 pm ET (New York time) and/or Wednesdays at 8 pm ET (if this does not suit your schedule, you can ask for other times). The next round of classes will begin November 1, 2014.
For more information or to apply
To apply for the 4 Love Secrets™ Coaching Certificate Program, you can call S.J. Love, M.Ed. at her home office at 705-320-8072 between 1-9 pm ET (New York time).
You are invited to join us. Simply click above.
Organizer
Sharon Love, M.Ed. empowers gay-friendly speakers, teachers and entrepreneurs to attract clients.  Her first her first self-employed crowdfunding client earned $100,000 in just 2 months on her Kickstarter project. Her mission is to empower 1,000,000 gay-friendly leaders to prosper by inspiring the world. 
Love overcame near-mute shyness and homelessness, and earned a half million dollars from motivational speaking. She has inspired thousands of people from around the world with dynamic presentations in Spanish, French and English. In 2010, she also inspired over two million people to join her facebook group called I Bet We Can Find 1,000,000 People who Support Same-Sex Marriage.
To thrive and save lives, please
1) Register
2) Share this page
3) Enjoy your course.
Thanks! You make a difference. Together, we can change the world.
*Earnings Disclaimer: The results that Sharon Love and some of her clients have achieved are not typical, and we make no guarantee as to your earning potential.  There will be time & energy involved in any successful endeavor.  While the systems are simple, their success will depend on many factors, mostly of which are in your hands. Of course, your results will depend mainly on you. We don't know you, so we cannot guarantee your results in terms of profit income.  When addressing financial matters in any of our Sites, videos, newsletters or other content, we've taken every effort to ensure we accurately represent our programs and their ability to grow your business and improve your life. However, there is no guarantee that you will get any results or earn any money using any of our ideas, tools, strategies or recommendations. This is not a "get rich scheme." Nothing on our Sites is a promise or guarantee of earnings. Your level of success in attaining similar results is dependent upon factors including your skill, knowledge, ability, dedication, business savvy, network, and financial situation, to name a few. Because these factors differ according to individuals, we cannot and do not guarantee your success, income level, or ability to earn revenue. You alone are responsible for your actions and results in life and business. Any forward-looking statements outlined on our Sites are simply our opinion and thus are not guarantees or promises for actual performance. It should be clear to you that by law we make no guarantees that you will achieve any results from our ideas or models presented on our Sites, and we offer no professional legal, medical, psychological or financial advice.