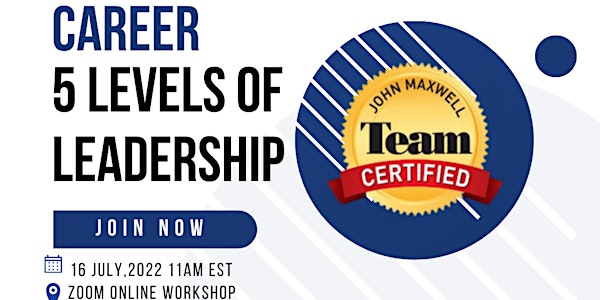 The 5 Levels of Leadership
Confident in Your Leadership! Understand and Increase Your Effectiveness.
Refund Policy
Contact the organizer to request a refund.
Eventbrite's fee is nonrefundable.
About this event
Acquire the leadership skills needed for growth and impact!
My research shows that most people think that if they know their trade well and work hard in their organizations, that automatically qualifies them to lead people. Most people never read books on leadership or recognize their strengths or weaknesses as a leader, because they have no clear definition of what leadership is. Most employees simply go to trainings offered by companies, maybe once a year, and feel that that is adequate to succeed at the top of the organization. Where do you fall ? Do you know your number? Do you know your level? Have you been told that you are not leadership material? Did you do something about it? If you are leading people, are you confident and impactful?
Here's a quick summary of what you'll learn:
• Capabilities needed to grow as a leader
• Identify who you are as a leader and what your current leadership level is
• Develop a road map for leadership development
• Understand the difference between positional leadership and true influence
• Better relate to those you lead by moving from title driven positional leadership to true influence
• Establish deliberate habits successful leaders use to grow on a daily basis
Included:
• 1-on-1 Leadership Coaching Session plus roadmap (outside workshop)
• Free Leadership Assessment plus group feedback
• 3 hour Training
What to expect:
You will leave this program feeling supported, having clarity about the five levels of leadership and what that entails, you will have more leadership concepts to add to you vocabulary. Knowing where you are is a confidence builder. You will have a roadmap for your future. Connect with Coach Rene with your customized 1-on-1 session.
If you want to rise above the rest, learn the leadership trends that will set you apart.
If you want to be recognized in your industry, you need to stop relying on only company training. Step up your game. Get your own career coach to help you overcome invisible barriers to success.
Time Commitment: 4 Hours ( 3 Hrs in Workshop; 1 Hr in 1-on-1 Coaching Session).
About the Host
I help successful, trustworthy 35 year and older business professionals who feel stuck and uncertain of their future, break through career ceilings and soar to new heights they didn't think possible.
I am a certified John Maxwell Coach, Speaker, Trainer and Teacher.
Who is this training for?
This training is for anyone who wants to know and understand the 5 levels of leadership by John C Maxwell;
and for those who are developing the leaders around them and would like to add more tools to their kit .
This training is also for those who are only starting their leadership training; and for those who would like to know what level of leadership they are at and what they can do to grow to the next level.
Who is the author ? What Does He Believe?
John C. Maxwell is an internationally respected leadership expert, speaker, trainer, coach and author, whose philosophy is simple: "Everything rises and falls on leadership." For more than 40 years, John has been teaching people to answer their call to lead, to add value to and make a difference in the lives of others. He has devoted himself to developing and training leaders at all levels. John's latest achievement is as founder of his globally acclaimed John Maxwell Team (JMT), an elite group of over 5,000 certified coaches, teachers, speakers, trainers and professionals who have helped people worldwide create a leadership legacy within their own spheres of influence. John Maxwell Team members inspire positive life transformation and help others achieve their highest vision and goals, both personally and professionally.
Voted the #1 Leadership and Management Expert in the World - Inc Magazine
#6 All-Time Best-Sellers List 10th Anniversary Hall of Fame